7 Reasons Employee Handbooks Are Important For Your Dental Practice
As a dentist or supervisor of a dental practice, your first concern is your patients. That's why you got into the field in the first place.
However, as your practice grows, you'll have more and more employees, and more expectations and policies. How will your team members know what those are? This is the role of the employee handbook (or dental office manual). In this post, you'll learn seven reasons dental office manuals are crucial for the success of your practice.
What Does an Employee Handbook Include?
Employee handbooks provide a single point of reference that lays out what your dental practice is all about, what employees can expect from you as the employer, and what employees are expected to do as members of your team. They usually include the following:
A warm welcome letter from the director of the dental practice

Your practice's mission statement, values, and company culture

Your dental office policies and procedures, including those governed by regulatory agencies like the Department of Labor and OSHA

Information about benefits and compensation

The rights and obligations of both employer and employee

Most up-to-date workplace laws, including the Family Medical Leave Act and other legally protected leaves of absence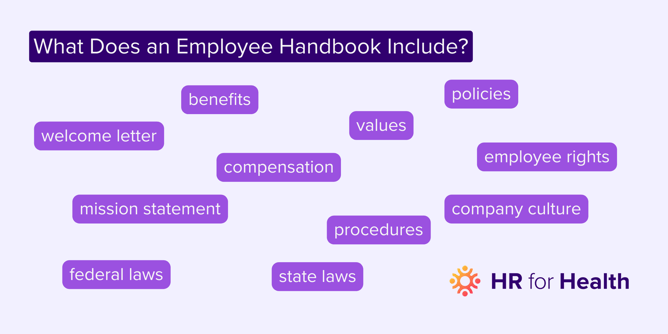 Why the Handbook Is Important for a Dental Practice
Employee handbooks (or as we mentioned e, dental office manuals) are important for all companies and organizations, including your dental practice. What are those reasons? Here are seven:
1. Dental Office Manuals Bind Your Practice Together
Imagine a dental practice with dozens of policy papers, rule books, and workplace law documents scattered around your office. Whenever an issue comes up, how do you know where to look?
A single dental office manual provides a common document that supervisors and employees can reference whenever an issue arises. With HR for Health's software, employees can easily and quickly reference any necessary documents electronically. For example, maybe your dental assistant would like to request time off, but you're unsure what the exact procedures are. Instead of scrambling through computer files or file cabinets to find a document to explain proper procedures, all employees have access to their soft copy, available for viewing at any time.
2. Employee Handbooks Serve As Legal Protection for Your Practice
Not only does a dental office manual bind your practice together, but it also provides legal protection. The manual acts as a legal document or a contract signed by both employer and employee. This means that if an employee takes legal action against you, you'll always have the manual to back you up.
Perhaps you have the unfortunate experience of laying off your bookkeeper. If they file a suit against you, the dental office manual will provide the language to back up your actions. This doesn't mean you'll automatically win, of course, but you're better off having it than not.
3. Employee Manuals Introduce New Hires To the Culture of the Practice
Taking on a new position can be daunting. Not only do you have to learn how to do the job you've been hired to do, but you also want to know the values of the practice.
A dental office manual gives new hires an excellent introduction to the culture of your practice. As mentioned above, it's essential to include a welcome letter from the supervisor. This letter is a fantastic opportunity to communicate the values of your office. What do you care about? Patient health? Long-term relationships with patients? Work-life balance for employees? Those are all decisions for you to make, but the manual is a great place to give new hires a taste of what you care about as a dentist.
4. Dental Office Manuals Communicate Expectations To All Employees
While dental office manuals are especially important for new hires, they serve a purpose for all employees in communicating expectations, including dental office policies and procedures. As an employee, what are they supposed to do, and what are they permitted to do?
The manual is a place to explain in detail some of the following:
What hours are employees supposed to be at work?

How much vacation and sick leave is there?

What is the dress code? Is that different for bookkeepers and dental assistants?

What are our opening and closing procedures?
Clear communication of expectations will help build unity on your team and clear up unnecessary confusion.
5. Employee Handbooks Explain the Rights and Privileges of Your Employees
Employees don't only want to know what they're supposed to do on your team. They also want to know what they have as entitlements. What are their rights and privileges?
A dental office manual needs to explain the rights and privileges of your employees, which will at least include:
Vacation and sick leave allowances

Rights of non-discrimination in the workplace

Information about health insurance, salary, and 401(k)

Health and safety policies
As with expectations, detailing rights and privileges in the handbook will ensure your team members that your dental practice is a welcoming place to work.
6. Dental Office Manuals Explain Important Procedures
In your workplace, you surely have plenty of procedures that employees must follow to do their jobs well. The dental office manual is the place to explain those procedures. You'll need to give details on how to keep time, ask for time off, and take care of patient records. Every system will need to be practiced, but the manual is a good touchstone for team members to reference if they need a refresher.
7. Employee Handbooks Ensure Legal Compliance
As mentioned above, employee handbooks provide your dental practice with legal protection. However, they also tell employees you're serious about following the law.
For a dental assistant about to go on leave to have a baby, it's good for her to know that you're complying with the Family Medical Leave Act (FMLA). For anyone watching, it's comforting to know that you're abiding by the latest non-discrimination laws concerning gender and sexuality, depending on what those are in your state.
Here's more on how and why you should keep your handbook up to date with the law
.
Final Thoughts: Dental Office Manuals Communicate Expectations
To boil it down, dental office manuals are essential for your practice because they explain expectations for the employee and the employer. They clearly state what your dental office policies and procedures are. They say exactly what employees are supposed to do, and what you as the employer will do for them. Put together into a single, unifying document, they are vital tools for your dental office.
How HR for Health Can Help
When it comes to dental practices, it's essential to ensure all team members have access to an employee handbook available for reference whenever needed. Fortunately, HR for Health has everything needed to ensure your practice provides a digital employee handbook that will work to eliminate any confusion regarding the HR policies within your practice. If you're ready to put together an employee handbook, it's time to talk to HR for Health!