Several States Implement New Sick Leave Laws under FFCRA Amid COVID Pandemic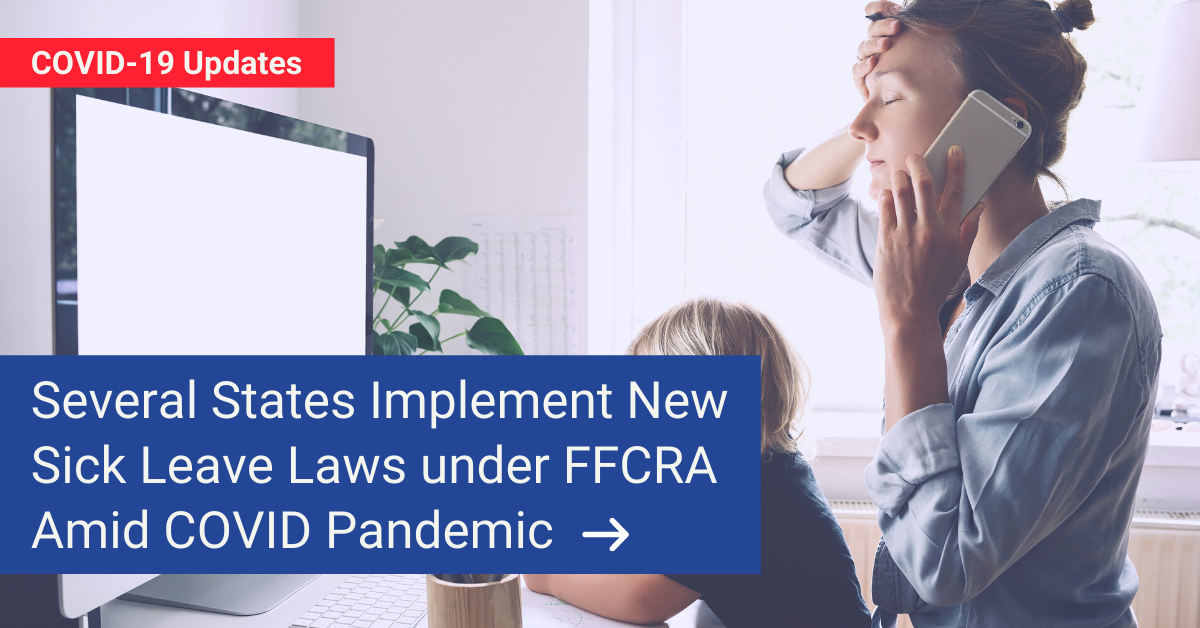 California, Colorado, New York, Maryland, Oregon, Pennsylvania, and Illinois are among several states that recently enacted new sick-leave laws under the FFCRA amid the ongoing COVID-19 pandemic, a move that left many of us bemoaning the increase of more sick leave in this busy, trying time. So what do you need to know to keep things running smoothly in your practice? We break down each of the sick-leave updates below.
California Governor Signs Bill That Ensures Access to Paid Sick Leave for Every Employee
California's Governor Newsom signed a bill that eliminates coverage gaps, making it easier for employees to access their paid sick days in the midst of the COVID-19 pandemic — ensuring they're covered if exposed to or test positive for the virus in 2020.
AB 1867 is a budget trailer bill that extends crucial paid sick days to California's workforce. It serves to harmonize some prior laws and close some gaps, making it easier for employees to get coverage and for employers to understand which legislative mandates apply to them. The bill includes employers with over 500 employees, as well as private and public employers of healthcare and first responder employees who, for one reason or another, opted not to cover their employees under the FFCRA.
It's no secret practices are stressed and understaffed because of the COVID-19 pandemic. Getting up to speed on AB 1867 can help California practice leaders know what to do to support their team members during this time.
Paid Sick Leave Law Takes Effect in Colorado
As of January 1, 2021, all Colorado employers with more than 16 employees are required to provide their employees with paid sick leave if they are eligible. Employees can accrue an hour of paid safe and sick leave time for every 30 hours they work, up to a maximum of 48 hours per year. The law applies to Colorado employers with fewer than 16 employees beginning January 1, 2022.
Small practices, therefore, get a bit of a breather before the new law goes into effect. For example, a Colorado chiropractor with 20 employees has to provide all eligible full-time workers with paid sick leave, beginning January 1, 2021; but if that chiropractor had only 10 team members, the new law is not obligatory until a year later.
New York's Paid Sick Leave Law in Effect as of Sept. 30, 2020
The statewide paid safe and sick leave law of New York requires all employers with fewer than 100 employees provide up to 40 hours of paid safe and sick leave per year. The rules are a bit different for those with less than four employees and a net income of less than $1 million, whose obligation is — at a minimum — up to 40 hours of unpaid sick leave per year. Bigger employers have bigger obligations: All employers with more than 100 employees must provide up to 56 hours of paid leave each year.
The clock has already begun on this new law, even for small practices. Beginning September 30, 2020, team members started to accrue one hour of safe and sick leave per every 30 hours of work. However, team members cannot begin using the accrued leave until January 1, 2021.
Maryland Expands and Amends Paid Sick Leave Law
As of October 1, 2020, the Maryland Healthy Working Families Act expanded and amended the official definition of "family member" regarding paid safe and sick leave purposes to include a legal ward of an employee and a legal ward or guardian of the employee's spouse (2020 Bill Text MD H.B. 880).
Family Leave Act Regulations Amended in Oregon Regarding Sick Child Leave
Oregon employees can take sick child leave under the Oregon Family Leave Act beginning September 14, 2020. This allows them to take care of their ailing child during the closure of the child's school or child care facility as the result of any statewide public health emergency as declared by a public health official. Employees with kids in a school or day care that closes because of a pandemic like COVID-19 can take safe and sick leave away from work to be with their children.
OFLA applies to practices with 25 or more employees. If you are a small- to mid-sized practice, these kinds of changes are important to keep in mind as you balance growth of your patient roster with HR and budgetary concerns.
Philadelphia Employees to Be Provided With Paid Sick Leave, Pay, and Healthcare During a Pandemic
As of September 9, 2020, under changes to the city's Promoting Healthy Families and Workplaces Ordinance (Bill No. 200306), Philadelphia employers that provide healthcare services and use pool employees or healthcare employees have expanded obligations to those particular team members.
Specifically, the employer must pay for any lost wages and medical expenses incurred if the team members are sickened by a communicable disease during an epidemic or pandemic. For practice leaders, this is an even greater incentive to stay serious about team safety, by continuing stringent COVID-19 protocols. Healthy team members protect patients and reduce the chances you or anyone in your employ will be directly affected by serious illness.
Chicago's Minimum Wage and Paid Sick Leave Ordinance Amended
Beginning July 1, 2020, Chicago's Business Affairs and Consumer Protection published revisions to its Minimum Wage and Paid Sick Leave Rules regarding the following:
Recordkeeping
Notice-posting
Complaint filing procedures
The city also made key revisions to its minimum wage. It's now $13.50 per hour for small employers with 4 to 20 team members and $14.00 per hour for practices of 21 or more team members.
Maine Introduces New Earned Paid Leave Law
Maine's Earned Paid Leave Law (EPLL), effective January 1, 2021, requires employers with 11 or more employees to provide up to 40 hours of earned paid leave in one year of employment. Leave may be used for any reason.
Employees accrue one hour of leave for every 40 hours worked, beginning at the start of employment. However, an employee must be employed at least 120 days during a one-year period before using accrued leave.
It's important for practices to acknowledge this is a new benefit and team members don't have to be sick to use it. As you try to balance HR and budget issues while still providing optimal patient care, it's smart to put the EPLL into the equation.
HR for Health Helps Practices Comply With Rapidly Changing State Laws
Running a professional health practice during the COVID-19 pandemic has brought new challenges for your patients and your team. These new sick leave rules represent another set of adjustments practice leaders have to make, but you're not alone. HR for Health will help you stay up to date with your state's sick leave rules and requirements.
How do we do it? With comprehensive HR solutions specifically tailored to health care practices. Our software manages everything from time tracking to performance management. We also provide what you need when it comes to legal notices and developing a comprehensive and practical employee handbook.
Talk to us today to learn how you can offset some of the stress of the pandemic — by working with HR for Health to keep your HR issues on track.
---
Did you know that we at HR for Health monitor all the specific laws and regulations that affect your practice? If you have questions about compliance issues, please reach out to us. Schedule a call, call (877) 779-4747, or email compliance@hrforhealth.com now to learn more.
---
HR for Health is one of the nation's leading Human Resources Management Systems (HRMS) used by small to mid-sized practices.
---
Quick note: This is not to be taken as legal or HR advice. Since employment laws change over time and can vary by location and industry, consult a lawyer or HR expert for specific guidance. Learn about HR for Health's HR services.