Paycheck Protection Program Seeks Additional Funding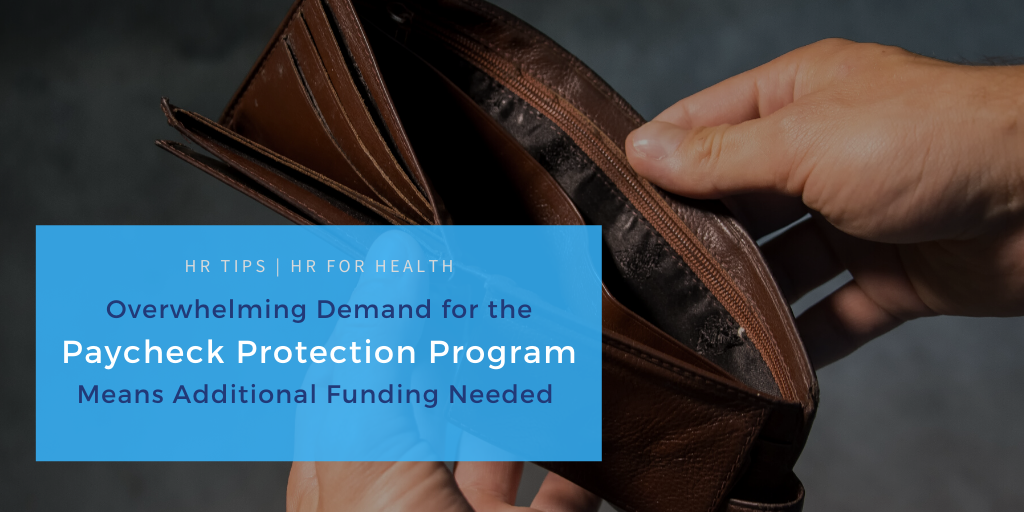 The Paycheck Protection Program (PPP), one of the CARE Act's largest relief offerings, in early April earmarked $350 billion in loans to help employees stay on the payroll. With high demand for the first-come, first-serve program, the funds from the PPP were exhausted within two weeks.
The Small Business Administration, the program's administrator, on April 15 announced a halt to new applications and approval of new lenders. More than 1.6 million loans totaling $339 billion have already been approved.
Congress is debating an additional $250 billion in appropriations for the highly popular program. In the meantime, the SBA said it is unable to maintain queues for businesses that have already applied.
Our original blog post with a detailed overview on the Paycheck Protection Program provides additional resources, guidelines, and information for small business owners.
Due to the rapidly changing guidelines around the available relief programs for small business owners, we recommend you consult your CPA for further guidance.
---
We provide services to help you handle compliance with state laws, hiring, and all your other HR needs. If you have questions about managing your employees during the COVID-19 pandemic or any other questions, please reach out to us and SCHEDULE A CALL, or call: 877.779.4747, or email: compliance@hrforhealth.com.
---
HR for Health is one of the nation's leading Human Resources Management Systems (HRMS) used by small to mid-sized practices. HR for Health has provided the following complimentary articles to ensure you have a game plan when addressing complex HR matters.
---
Quick note: This is not to be taken as legal or HR advice. Since employment laws change over time and can vary by location and industry, consult a lawyer or HR expert for specific guidance. Learn about HR for Health's HR services