HR Resource Library
Empowering Healthcare Practices with Human Resources Solutions
From Compliance to Conflicts, Get the HR Resources You Need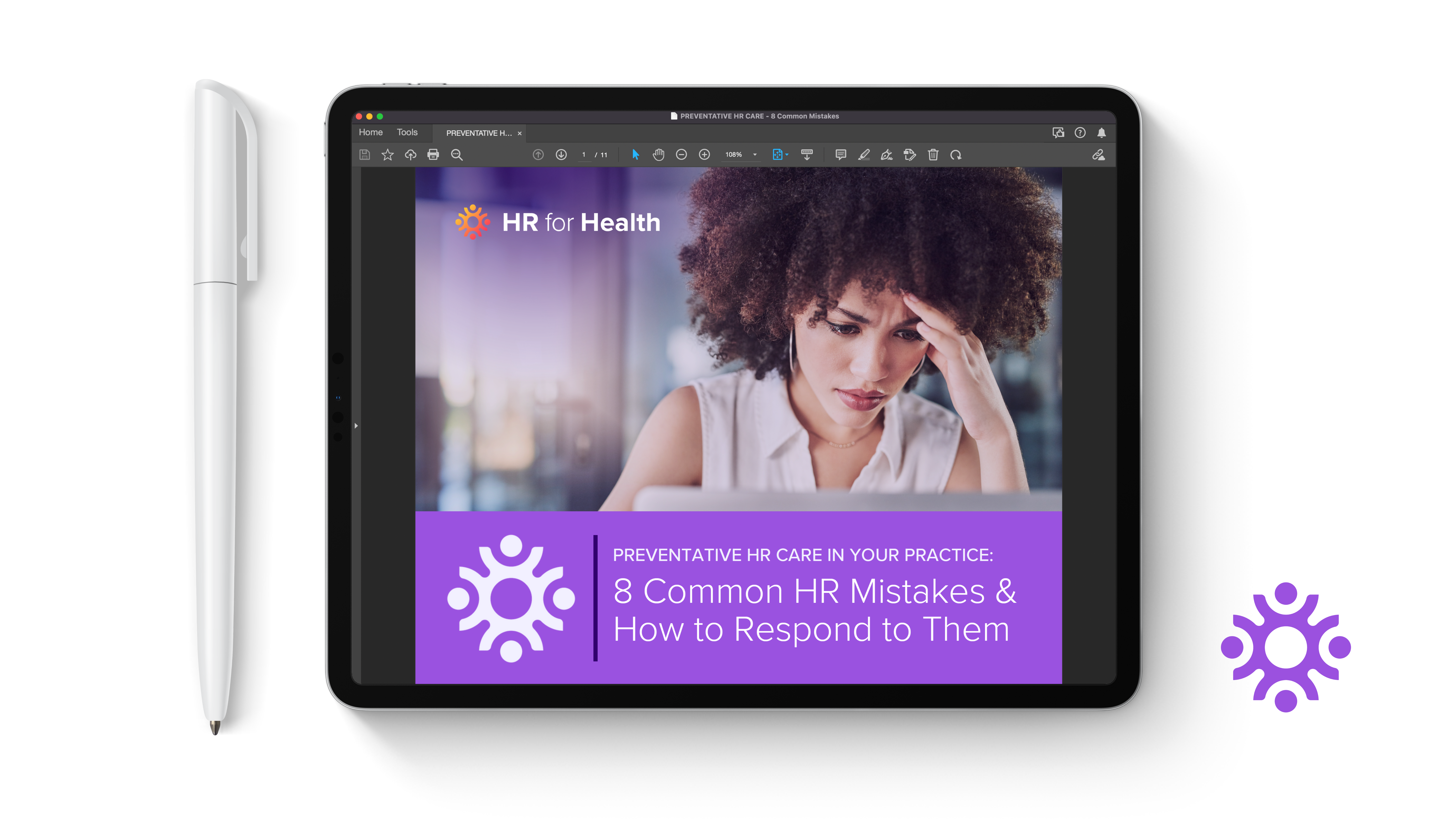 FREE RESOURCE
8 Common HR Mistakes & How to Respond to Them
Preventative care is crucial for dental health and also applies to HR. Avoiding legal issues is easier and cheaper than dealing with them after they happen. While prevention is best, mistakes can still occur, so it's essential to handle them correctly. This guide helps navigate uncertain times in HR.
Download Our Free Whitepapers, Templates, & More!
HR for Health provides healthcare practices with the resources to improve their practice and avoid legal pitfalls.

9 Common HR Mistakes
Are you committing one (or all)of the 9 most common HR mistakes in your practice? While these mistakes can be costly to your business, it's not too late to fix them!
Download

The State of Human Resources Compliance in Dentistry
This e-book dives into the findings from over 200 dental industry professionals representing solo practices, dental groups, and DSOs.
Learn More

New Hire Document Checklist
California employers are subject to many local and state-specific hiring requirements - including multiple notices that must be provided to new employees.
Download

75 Interview Questions to Ask Potential Employees
Learn how to ask tough questions and upgrade your interview process.
Learn More
HR for Health has helped organize all things HR for my practice in one location where it's easily accessible by my staff. Once documentation for each employee is setup, I don't have to think about it again!
Dr. Julia Hoang, DDS Lamorinda Dental Care

CA Pregnancy - Wage & Rights Template
This letter template can be used to educate pregnant employees on their leave and wage replacement options during their pregnancy.
Download

Vaccination Declination Form
Looking for a template to use when your employee declines the COVID-19 vaccine? We've got you covered.
Download

Termination Mistakes Checklist & Template
Are you looking for a checklist to stay on top of the latest laws and regulations for terminating employees? What about a termination template to cover your bases in documentation? We've got you covered.
Download
Get Started Today.
There's nothing better than HR peace of mind. Try it out for yourself.