HR Resource Library
Empowering Healthcare Practices with Human Resources Solutions
Get a glimpse of what it's like to partner with HR for Health by taking advantage of these free resources.
NEW
HR Compliance Guide
Need to Keep Up with the 2024 Employment Law Changes?
We've Got Your Back!
Navigating the sea of new federal and state-level employment laws set to roll out this year can be daunting – especially when you're neck-deep in running your healthcare practice. With over 30 noteworthy changes, preparedness matters more than ever, lest your practice faces steep fines, legal fees, or even reputational damage.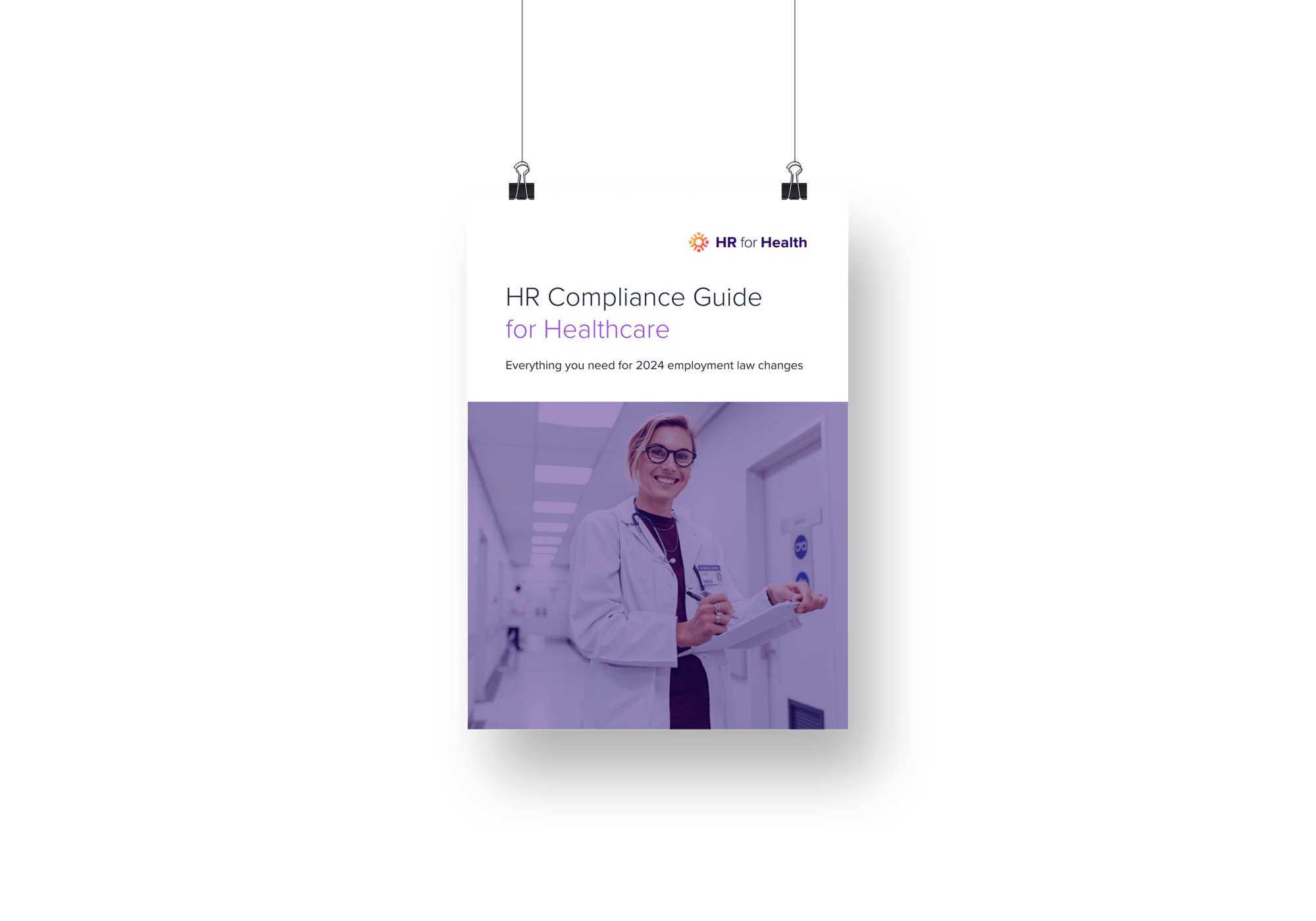 NEW
HR Compliance Checklist
Attention, healthcare warriors! Are you wading through an HR swamp thicker than grandma's gravy? Good news: we've cooked up something just for you. Feast your eyes on HR for Health's "2024 Labor Law Compliance Checklist." All you need to do is fill out the form.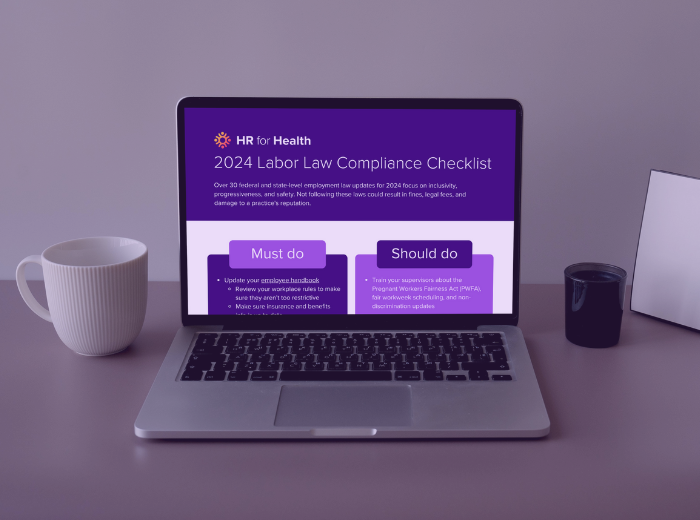 NEW
Termination Checklist
Feeling muddled in the murkiness of managing terminations? Fear not, our Termination Checklist is here to light your way! This comprehensive guide helps ensure that your steps are as precise as a surgeon's scalpel, allowing for a smooth, compliant parting process.
Humorously dubbed as 'The HR Survival Kit,' it ensures you retain your sanity amidst even the most complex HR tasks, turning the horror of terminations into a walk in the practitioner's park.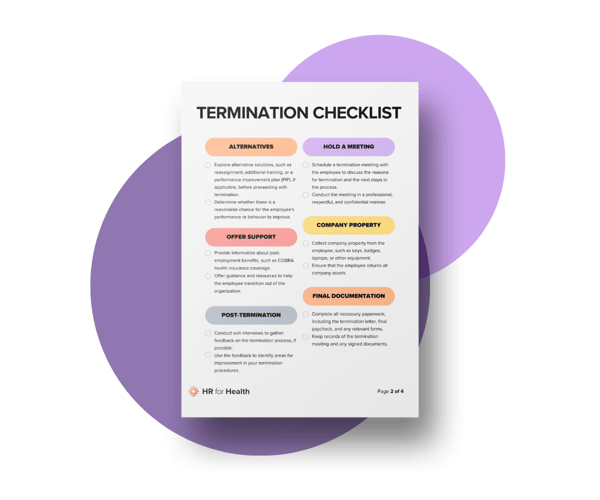 EMPLOYEE HANDBOOK
2023 Mid-Year Law Updates to the Employee Handbook
We've created this employee handbook with healthcare and dental practices in mind. With the federal law changes in July 2023, make sure you're covered within your own employee handbook. This guide is also helpful for those who want to be aware of employee rights and how you can make better management decisions in your practice.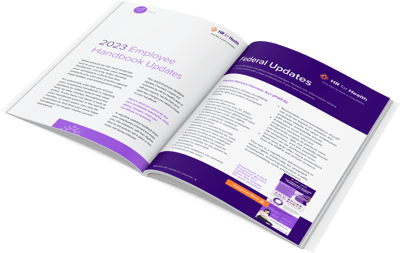 The Future of HR in Healthcare
The 2023 State of HR Report
The 2023 State of HR Report offers crucial insights into what's working and what isn't in HR for the healthcare industry. Spanning various specialty areas such as healthcare, dental, optometry, and chiropractic, the report is based on thorough surveys are conducted annually, including over 1,500 healthcare decision-makers.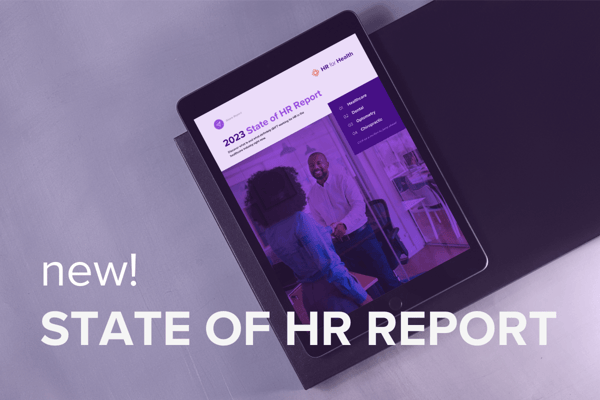 Create a state- and industry-specific employee handbook with this detailed questionnaire. Add in your company's unique policies and benefits, and send the final product to your team within minutes.
FREE DOWNLOAD
Unlock the Power of Painless Performance Reviews
Are you tired of dreading performance reviews?
Uncover the insider secrets to streamlining, enhancing, and stress-free performance reviews with our all-encompassing and painless guide. Bursting with actionable strategies, practical tips, and step-by-step instructions, our guide simplifies the complex process of performance reviews into a breeze.
REAL MISTAKES. REAL CONSEQUENCES.
8 Common HR Mistakes & How to Respond to Them
Preventative care is crucial for dental health and also applies to HR. Avoiding legal issues is easier and cheaper than dealing with them after they happen. While prevention is best, mistakes can still occur, so it's essential to handle them correctly. This guide helps navigate uncertain times in HR.
FEDERAL LAW UPDATE
The Pregnant Workers Fairness Act
Effective June 27, 2023, the Pregnant Workers Fairness Act (PWFA) enacted by the federal government necessitates that companies with 15 or more employees provide "reasonable accommodations" to pregnant workers, new mothers, or those with related medical conditions based on their limitations.
To ensure your company is compliant with the Pregnant Workers Fairness Act (PWFA), your supervisors must be equipped to handle reasonable accommodation requests from expecting or new mothers. By downloading our informative flyer, you can help your team stay up-to-date and prepared to provide appropriate accommodations to qualified employees.
EMPLOYEE MANAGEMENT
Offboarding Checklist
HR for Health's Ultimate Offboarding Checklist is a valuable resource making terminations, resignations, and every kind of employee offboarding easier and hassle-free. It's designed to be the comprehensive, stress-relieving guide through what is usually a overwhelming chore filled with mounds of paperwork.

Key Features:
A comprehensive yet swift checklist to guide the offboarding process
Ensures no crucial steps are missed, from final paychecks to company email and access badges
Mitigates risk and enhances compliance
This thorough checklist relieves you from the dread associated with offboarding, enabling you to lead like an HR champion. It offers a seamless transition process during farewell moments. Enjoy peace of mind and gracefully manage employee exits with the expertly developed HR for Health Offboarding Checklist.
EMPLOYEE MANAGEMENT
Human Resources Calendar
Stay on top of important dates with the 2023 Human Resources Calendar by HR for Health. Designed specifically for healthcare professionals, this comprehensive calendar assists you in managing employee schedules while maintaining HR compliance all year round.
Key features include:
Over 80 holidays, HR deadlines, and crucial dates
Federal and unofficial holidays
HR-specific deadlines and reminders
Encourages workplace celebrations for a harmonious and cheerful environment
This essential guide helps in scheduling paid time-offs, planning various celebrations, and ensuring total human resource compliance. Download the free calendar and experience smooth management of your healthcare-based practice. Download now.