HR Resource Library
Empowering Healthcare Practices with Human Resources Solutions
Get a glimpse of what it's like to partner with HR for Health by taking advantage of these free resources.
EMPLOYEE HANDBOOK
2023 Mid-Year Law Updates to the Employee Handbook
We've created this employee handbook with healthcare and dental practices in mind. With the federal law changes in July 2023, make sure you're covered within your own employee handbook. This guide is also helpful for those who want to be aware of employee rights and how you can make better management decisions in your practice.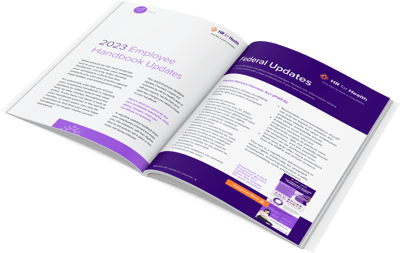 FREE DOWNLOAD
Unlock the Power of Painless Performance Reviews
Are you tired of dreading performance reviews?
Uncover the insider secrets to streamlining, enhancing, and stress-free performance reviews with our all-encompassing and painless guide. Bursting with actionable strategies, practical tips, and step-by-step instructions, our guide simplifies the complex process of performance reviews into a breeze.
REAL MISTAKES. REAL CONSEQUENCES.
8 Common HR Mistakes & How to Respond to Them
Preventative care is crucial for dental health and also applies to HR. Avoiding legal issues is easier and cheaper than dealing with them after they happen. While prevention is best, mistakes can still occur, so it's essential to handle them correctly. This guide helps navigate uncertain times in HR.
FEDERAL LAW UPDATE
The Pregnant Workers Fairness Act
Effective June 27, 2023, the Pregnant Workers Fairness Act (PWFA) enacted by the federal government necessitates that companies with 15 or more employees provide "reasonable accommodations" to pregnant workers, new mothers, or those with related medical conditions based on their limitations.
To ensure your company is compliant with the Pregnant Workers Fairness Act (PWFA), your supervisors must be equipped to handle reasonable accommodation requests from expecting or new mothers. By downloading our informative flyer, you can help your team stay up-to-date and prepared to provide appropriate accommodations to qualified employees.
Create a state- and industry-specific employee handbook with this detailed questionnaire. Add in your company's unique policies and benefits, and send the final product to your team within minutes.
The World Health Organization (WHO) has announced the end of the COVID-19 Public Health Emergency (PHE) effective May 11th, 2023.
CA Pregnancy Wage & Rights Template
Check eligibility for PDL and CFRA before handing over the letter using the downloadable template that includes a PDL fact sheet, CFRA information, and a PDL/CFRA/FMLA leave chart.
Take the stress out of recruitment with our HR 101 Hiring Toolkit. Designed to guide you from interview through onboarding, our toolkit contains everything you'll need.