How to Write Job Descriptions for Your Healthcare Employees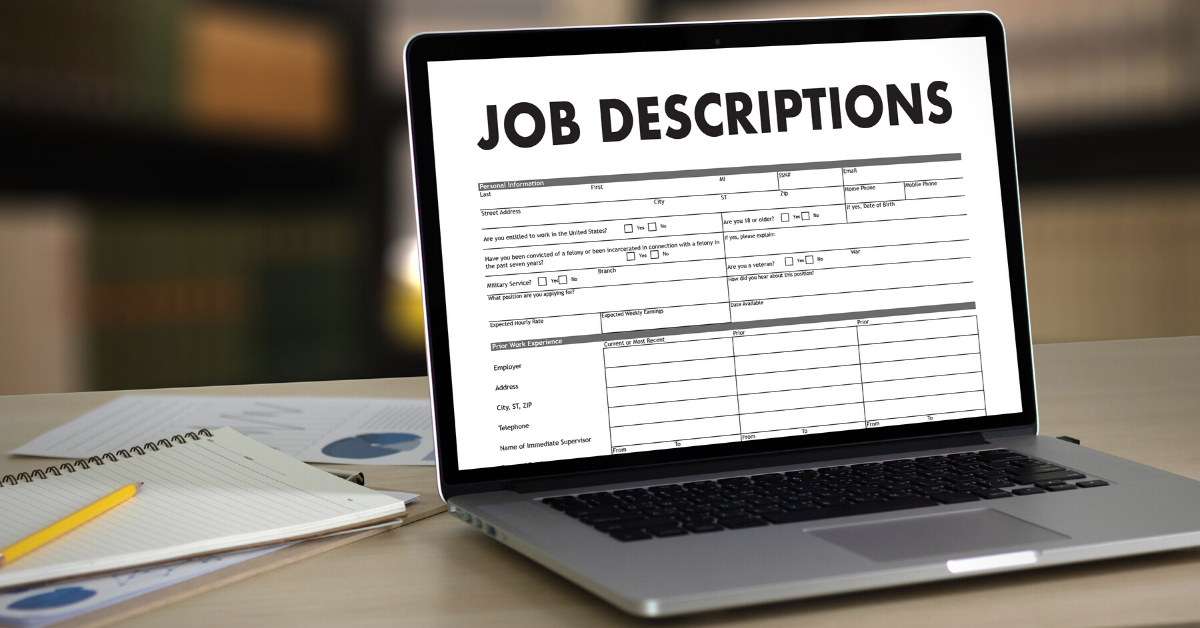 A job description is an official written document that describes the responsibilities, duties, and qualifications of a particular job in your healthcare practice.
It outlines the skills and qualifications necessary for the successful completion of the job, and includes information about the job's purpose and goals, working conditions while in your practice, and expected compensation. Job descriptions can be used to help recruit and select qualified candidates, as well as to provide clear expectations of the roles and responsibilities of a job.
Why are Job Descriptions Helpful for Healthcare Practices?
Job descriptions are essential for healthcare practices as they provide a clear understanding of the roles and responsibilities of each position. This helps ensure that team members are aware of their duties and provides an outline for recruiting new employees.
Job descriptions also help to define expectations and job performance standards, as well as identify any legal or professional licenses, or any other requirements. This can help to reduce the risk of liability and ensure that all employees in your dental, optometry, or other healthcare practice are properly trained and qualified.
When crafted properly, job descriptions can be used to develop career paths and ensure that each employee has appropriate goals and objectives that align with your practice's mission and vision.
Recommended Reading: Why You Should Link Job Descriptions to Performance Reviews
How do Reasonable Accommodations fit in with Job Descriptions?
Reasonable accommodations are also an important factor in workplace compliance and should absolutely be included in job descriptions. Reasonable accommodations are adjustments or modifications to a job, job application process, or working conditions that enable an individual with a disability or medical condition to have equal access and opportunity in the workplace.
Your employee would provide the job description to their doctor to determine what would be appropriate duties for them to handle versus not handle while recovering.
The Benefits of Job Descriptions When it Comes to Performance Reviews
During the performance review process, job descriptions can be a very useful tool.
Within the hiring process, your employee was provided a clear understanding of their job responsibilities and expectations. This has now allowed the employee to understand exactly what is expected of them, and can provide a basis for evaluating their performance.
By discussing the job description during a performance review, the employee can get a better understanding of the areas they may need to focus on improving and can also receive feedback on areas where they have excelled. Having a job description can also help ensure that the performance review is objective and fair.
Job Description Do's and Don't's
When writing your job description, it's important to keep in mind that the goal is to attract the best and most qualified candidate for the position, whether that is a dental hygienist, vet tech, or front office manager.
Here are some do's and don't's to keep in mind:
Do's:
Clearly explain the job duties and expectations.
Focus on the position's purpose and the skills required for success.
Demonstrate how the position fits into the overall team and organizational goals.
Offer a competitive salary range and benefits package.
Use language that is inclusive and gender-neutral.
Feature any unique selling points of the job that would make it attractive to the right candidate.
Don't's:
Use vague or overly general language.
Include unnecessary information or irrelevant job requirements.
Include any discriminatory language or phrases.
Make promises that the company can't keep.
Use jargon or overly complex language.
How HR for Health's Job Descriptions Work
HR for Health's human resources software streamlines the process of creating job descriptions. We provide templates for job descriptions as well as a library of existing job descriptions that can be customized for a particular job. We also allow for the easy tracking of job descriptions to ensure accuracy and consistency from one job to the next.
Additionally, HR for Health helps with the evaluation of job descriptions to ensure they are compliant with federal and state laws.
To learn more, schedule an HR consultation with us by booking time here or calling us at (888) 316-9284.