A Comprehensive Guide to Mid-Year Law Updates in Medical Human Resources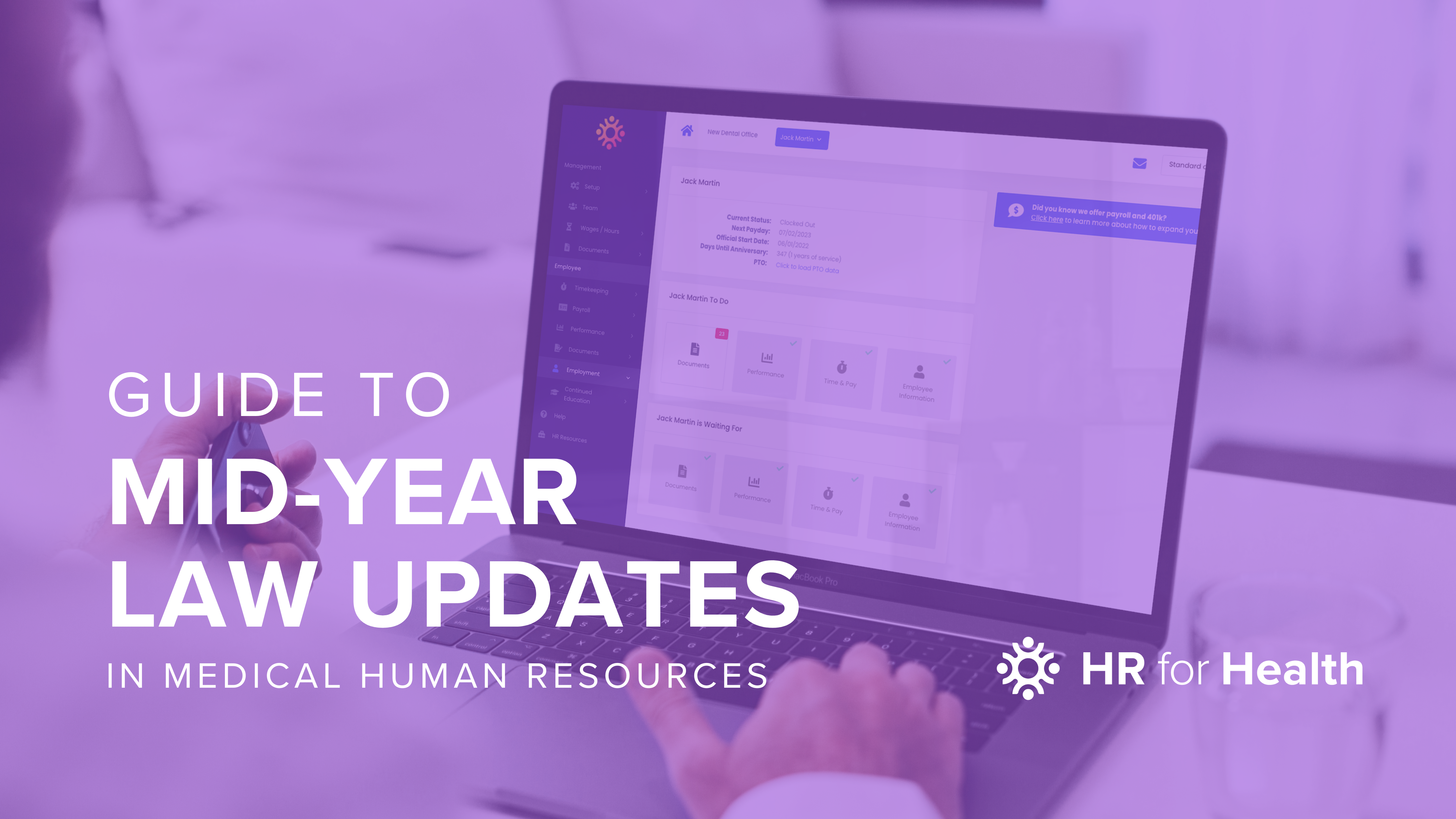 As the medical industry continually evolves, so do the regulations governing human resources (HR) practices within healthcare organizations. Staying up-to-date with the latest legal changes is essential for compliance and effective management of healthcare staff.
This comprehensive guide aims to provide an overview of the mid-year law updates in medical human resources, equipping HR professionals with the necessary knowledge to navigate the dynamic landscape of healthcare employment.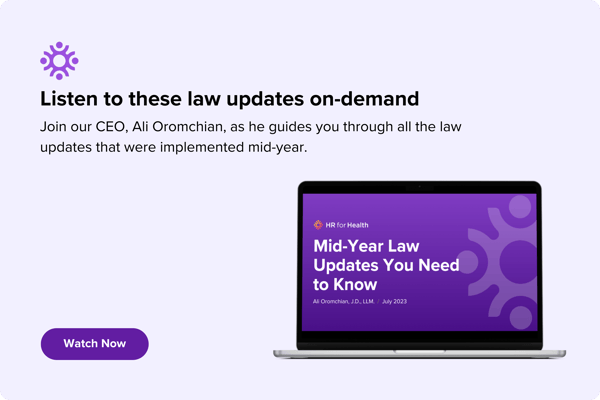 Part 1: Minimum Wage and Hiring / Onboarding Changes
It's essential to be mindful of the impact of minimum wage obligations. Even a 50-cent increase can lead to significant financial strain, especially when dealing with inflation and other economic factors. Ensuring accurate and fair payment to employees becomes vital under these circumstances, even though it might not be a primary concern for many healthcare practices.
Let's focus on some specific state rules now since regulations can vary from one state to another. In Florida, for instance, there have been changes to e-verify laws and additional immigration measures. As of July 1st this year, Florida requires private employers with 25 or more employees to use the e-verify system to verify their employees' eligibility to work. This requirement is important to note, especially for larger practices or those with multiple offices.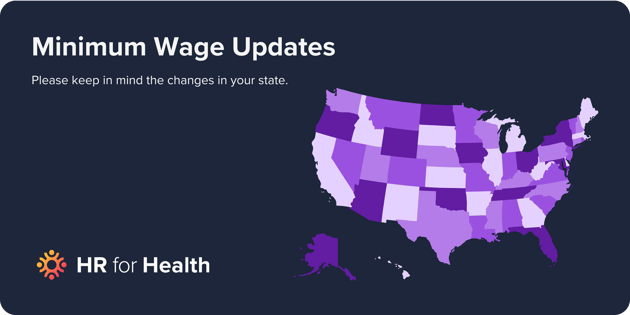 In other states, like New York City, there are limitations to using automated tools for hiring decisions. Since July 5th, employers or agencies in New York City cannot use automated employment decision tools to screen candidates or employees without first subjecting the tool to a bias audit within the last year. Additionally, employers using these tools must provide notice to the candidates and employees at least 10 business days before use and allow candidates to request an alternative selection method.
It's crucial to adhere to these rules and avoid violations, as they can lead to hefty penalties. For instance, in New York City, civil penalties for violations can amount to $500 for the first offense and $1,500 for subsequent violations.
Remember, staying informed about state-specific regulations is essential to ensure compliance and avoid legal consequences.
Once again, it's important to highlight that most doctors don't have these hiring tools in their offices. However, numerous third-party providers offer their services, claiming to provide automated hiring solutions. Despite the allure of automation, caution is essential in choosing the right tool that meets legal requirements. Remember, the responsibility and penalties lie with you, not these third-party providers.
Shifting the focus to pay ranges, there have been significant changes across the country since last year. In 2023, Albany County, New York, introduced a new requirement: pay ranges must be included in job postings. Thankfully, HR for Health offers specific job descriptions that allow you to document the expected job duties for your team and conveniently incorporate the corresponding pay scales into the job postings. This way, you can ensure compliance with the new regulation.
It's essential to be aware that this trend is becoming more common nationwide. States such as California, Colorado, Connecticut, Maryland, and Nevada already have these requirements in place. It's likely that more states will adopt similar regulations in the future, so it's crucial to stay informed.
Thankfully, with HR for Health, you don't need to create these job descriptions from scratch. They already provide specific job descriptions that comply with these regulations, making it easy for you. Simply use their ready-to-go descriptions and add your pay scale at the bottom to complete the job postings.
Part 2: Greater Restrictions On Noncompete/ Nonsolicitation Agreements and Pregnancy & Lactation Updates
Around the country, there has been a notable development concerning non-competes and non-solicitation agreements. Additionally, significant updates related to pregnancy and lactation regulations have indicated a shift in this area.
The recent changes to federal law concerning non-competes and non-solicitation agreements have been the talk of the town. While some states, like California, have completely outlawed non-competes for employees, others allow them on a limited basis. The federal government is looking to establish a national law that might make non-competes universally illegal. But there are still ways to protect your practice through employment agreements and intellectual property safeguards.
Many states are making significant amendments to their non-compete agreement laws. For instance, as of July 1st this year, Indiana has completely prohibited non-competes with primary care physicians, making them unenforceable. This change in a state like Indiana could potentially signal a wider trend in other states, especially in the Midwest.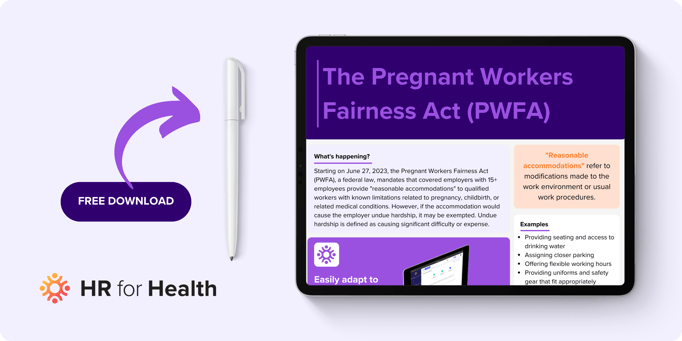 On another note, updates to pregnancy and lactation regulations have been observed. Some cities and states, like New York, have expanded accommodations for nursing mothers, mandating employers to provide appropriate facilities for expressing breast milk. Moreover, the Pregnant Workers Fairness Act, effective on June 27th, 2023, now requires companies with 15 or more employees to make reasonable accommodations for pregnant employees, ensuring they have a comfortable and safe work environment.
HR for Health provides comprehensive support in tracking leaves of absence and ensuring compliance with these regulations. Properly handling time tracking and absences is crucial to avoid potential issues and legal liabilities. Additionally, various states have made changes to family and medical leave benefit calculations, making it essential to keep an eye on these trends.
In conclusion, staying informed about changes in non-compete, non-solicitation agreements, and pregnancy and lactation regulations is vital. Employers must remain proactive in updating their employment agreements to protect their interests and comply with the evolving legal landscape. HR for Health offers valuable resources and support to navigate these complex matters efficiently.
Part 3: General State Protections, Sick Leave, and Retirement
Let's discuss some additional state protection laws that have recently gone into effect. In Arkansas, it's essential to be aware that discrimination against hairstyles is now prohibited. As of July 31st, the Arkansas Civil Rights Act was amended to include discrimination based on the natural and protective nature of someone's hairstyle as a form of racial or national origin discrimination.
In Utah, employers can now obtain workplace violence protective orders, effective as of July 1st. This means that employers can petition for and obtain protective orders against individuals who have engaged in potentially violent behavior in the workplace.
Georgia has expanded its voting leave law. As of July 1st, 2023, employers in Georgia are required to provide time off to vote in person on any day designated for early voting in addition to election day.
Regarding sick leave laws, states like Saint Paul in Minnesota, Philadelphia, and Bloomington in Minnesota have recently made amendments to their regulations. It's essential to stay updated on these changes and ensure compliance.
For retirement obligations, certain states have implemented new requirements. In Colorado, employers with 50 or more employees must register for the Secure Savings Retirement Program by March 15th, 2023. In Maine, employers with 25 or more employees must comply by April 1st, 2023. Make sure to address these obligations and explore the options available for providing retirement benefits to your employees.
Regarding security updates, South Dakota now allows electronic delivery of health insurance documents and notices as of July 1st, providing a more convenient option for employees. In Virginia, employers are prohibited from using an employee's social security number as their identification number or including it on ID cards, effective as of July 1st.
Lastly, some states have taken steps regarding COVID-19 regulations. California's COVID-19 prevention non-emergency regulation replaced its temporary standards, and Idaho has prohibited COVID-19 vaccine mandates. Florida has also prohibited employers from requiring proof of vaccination or COVID-19 testing as a condition of employment.
As you approach the end of the year, keep these updates in mind and ensure compliance with the changing regulations. Being proactive and staying informed will help you navigate the evolving legal landscape effectively.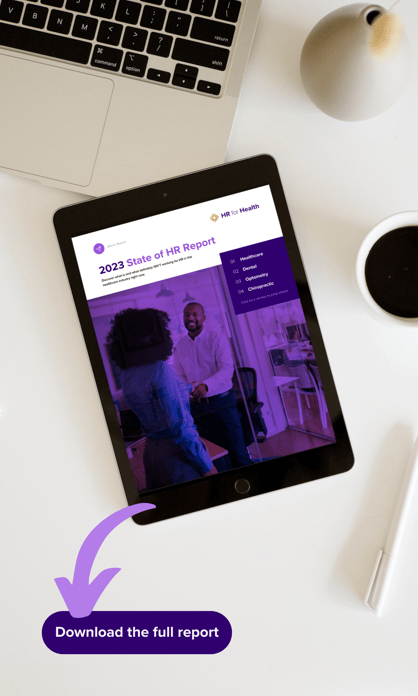 Part 4: Everything You Need to Know for 2023
Here are some essential steps to ensure compliance:
By following these steps, you can maintain compliance with employment laws and regulations and ensure your practice operates smoothly and legally. HR for Health offers a comprehensive solution to assist you in managing HR compliance efficiently.
Want to learn more? Schedule a demo with our team -->