How the Biden Vaccine Mandate May Impact Your Group Dental Practice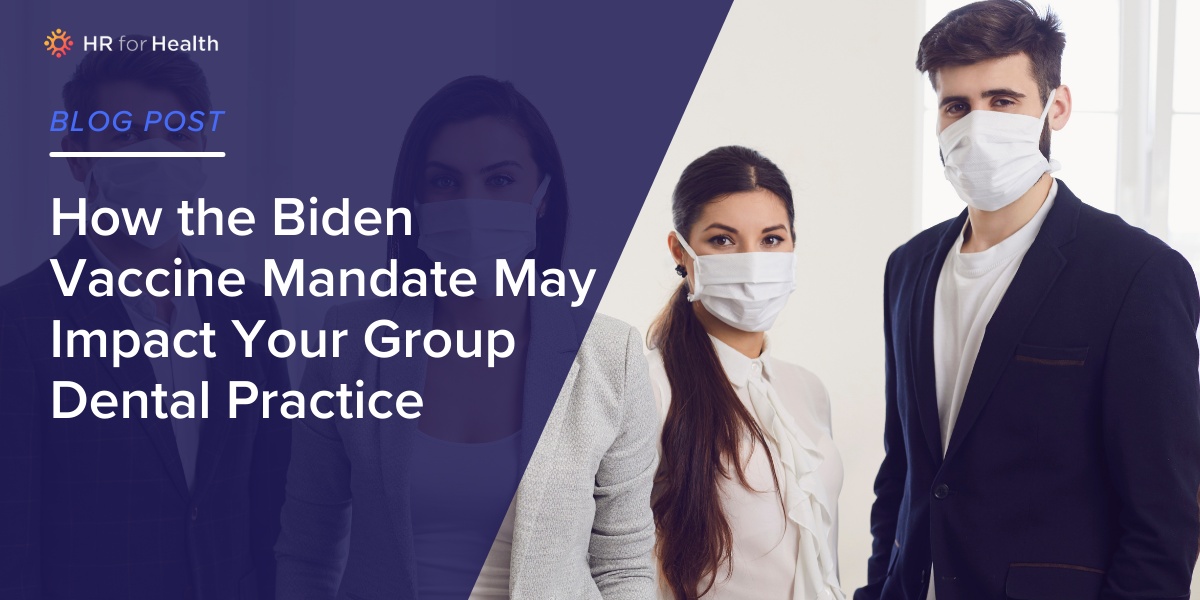 The recently announced Biden Vaccine Mandate will impact all group dental practices with 100 or more employees. It will also affect Medicare/Medicaid-funded group dental practices regardless of size. According to the mandate, these practices will now be required to enforce mandatory vaccinations and/or weekly COVID-19 tests for all employees.
Group dental practices that get reimbursed for Medicaid and Medicare will have to update their HR policies to reflect this mandate.
The real question is, what do you do if employees push back on the mandate or qualify for exemptions? Here's an overview of the recent Biden Vaccine Mandate, how it may impact your group dental practice, and the necessary steps you can take to address the mandate for your employees.
Overview of the Biden Vaccine Mandate
On September 9, 2021, President Joe Biden announced an expansive rules mandate for all government employees, employees of contractors that do business with the federal government, employers funded by Medicare/Medicaid and employers with 100+ employees. As part of the Pathway Out of the Pandemic COVID-19 Action Plan, an Emergency Temporary Standard (ETS) was put in place. This standard requires all employees to be fully vaccinated, or for unvaccinated employees to exhibit negative test results for the virus every week. Employers will now be expected to provide time off for all employees to get the vaccine, at no cost to the employee, including time to recover from the side effects.
Previously, in July, Biden announced a requirement for Federal government employees and contractors to be vaccinated and many states followed suit. The Centers for Medicare and Medicaid Services (CMS) are also acting on the mandate, by requiring all employees who work in clinics, home health agencies, and other medical facilities receiving Medicare or Medicaid reimbursement to either take the vaccine or provide negative test results weekly.
The mandate may offer some relief for employers that have been on the fence about making vaccinations mandatory. However, some states like Montana and Texas have enacted state laws limiting employers from instituting such mandates.
Recommended Reading 📃 Are You Recording This? How to Comply with the CA Vaccine Mandate
What Does the Vaccine Mandate Mean for Group Dental Practices ?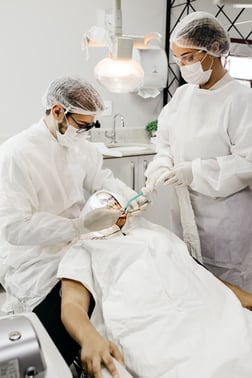 If you have a group dental practice or office with over 100 employees in a state that doesn't have a current vaccine mandate, this new mandate impacts you. Likewise, if you have a group dental practice that receives any funding from Medicare or Medicaid — regardless of size — this new mandate also impacts you. However, the date of release and compliance deadlines for OSHA's ETS have yet to be made known.
In the meantime, you must continue to provide standards for your team to follow.
Recommended Reading 📃 COVID-19: Mask & Vaccine Updates
How Do I Address the Vaccine Mandate in My Group Dental Practice?
As the mandate rolls out, more states will institute these vaccine requirements so that a standard is developed across the nation. If you haven't already, now is the time to implement a policy around the vaccine and roll it out to your team. The Vaccine Policy Template from HR for Health is available for you to download below.
Additionally, make certain you're storing sensitive medical information — such as vaccination records — separately from basic employee information. Personal and potentially compromising employee details should be kept under a tighter lid, and only be accessed by approved personnel.
Handline Vaccine Requirement Issues with Your Dental Team Members
Many employers are concerned about pushback from employees and potential legal risks resulting from the mandate. If employees choose not to comply with the mandates, practices risk losing staff in an already competitive job market. However, if these employees stay on, practice owners risk impacting the safety of their patients and the practice as a whole.
Pushback From Employees
After implementing a COVID vaccine policy, you may experience employees who push back on the mandate. If that happens, you can offer your employees the option of undergoing weekly COVID testing, should your state allow this. Depending on a state's guidelines, either the employee uses their health insurance or their employer pays or reimburses them for the costs to get ongoing medical tests.
If an employee opts for weekly testing in lieu of a vaccine, you'll want to have the employee sign a Vaccine Declination Form (available for download here). Both the declination form and the weekly test results need to be stored separately from the employee's personnel file in order to be legally compliant.
Employees With Qualifying Exemptions
Many employees are exempt from being vaccinated for medical or religious reasons. If employees have a qualifying exemption, you'll want to track their vaccine declination. In addition, should your employee have a medical exemption, you'll be required to file supporting documentation from the employee's primary care physician. To ensure full compliance with the latest mandates, we recommend downloading the vaccine Declination Form and Tracking Form here.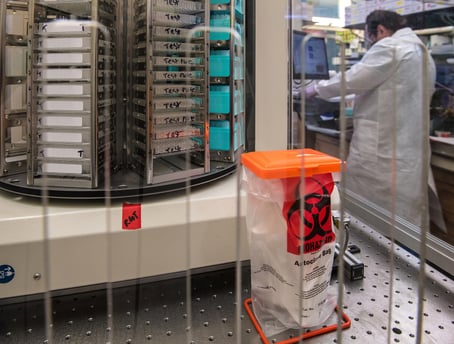 Also, be aware that these new vaccine mandates could cause stress and anxiety among your employees. It pays to be mindful of that possibility when you roll out new standards. Be sure to provide resources, remind employees of your open-door policy, and offer empathy wherever and however possible.
Recommended Reading 📃 COVID-19 Resources for Employers
HR for Health is here to help clear the fog from this rapidly-shifting HR landscape. Grab a demo with us and see how easy your practice's day-to-day operations can be!