Will Courts Uphold Vaccine Mandates From Health Care Employers?
You run a medical practice, so you're no stranger to challenging decisions. Sometimes, the right decision is easy; more often than not, there is no clear "right decision."
It's no secret that the COVID-19 pandemic — especially regarding vaccines — has created even more complexity for medical and business leadership. Since the rise of the pandemic, court systems were inevitably forced to intervene, helping to define the legality of mandates involving such individual health decisions.
In the pandemic world, decisions about how you manage your employees and run your office can drag you into controversial waters. One of these decisions includes whether health care employers should (or even can) require employees to get a COVID-19 vaccine. Let's discuss whether employers' COVID-19 vaccine mandates will hold up in courts going forward.
Get more guidance on how to develop comprehensive COVID-19 policies for your office. Download the COVID-19 policy templates and vaccine declination form.
Employer Vaccine Mandates Championed by Professional Health Care Organizations
According to the Association of American Medical Colleges (AAMC), more than 50 health care professional organizations support vaccine mandates for professionals in the field. Those organizations include: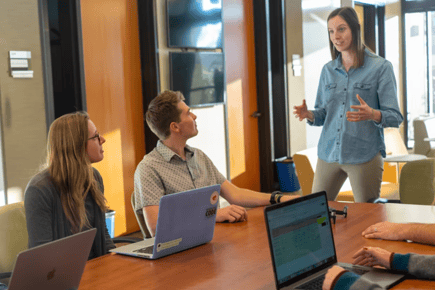 The AAMC itself
The American Medical Association
The National Association for Home Care and Hospice
The American Academy of Pediatrics
The American Nurses Association
These organizations cited providing better protection and safety for employees as well as patients in the reasoning behind their support.
Are Vaccine Mandates Required to Ensure Team Members Get the Shot?
According to information published by Northeastern University in August 2021, around 27 percent of health care employees were not vaccinated. The University stated that around 15 percent of the unvaccinated group vocalized being firmly against vaccinations. For some health care providers, this slow move to get vaccinated among groups of employees does lead many to consider a need for vaccine mandates.
Thus, the question becomes "Do I need a state or federal mandate backing up my potential vaccine requirements?" As a business or practice owner (or legally qualified representative of the same), you do not have to rely on the existence of laws requiring vaccinations.
Just as a college campus can require certain vaccinations for students in campus housing, you can require certain vaccinations for your employees. However, as with any such requirements, reasonable accommodation must be made for legitimate medical and religious opt-outs.
Cover all your basis as an employer when it comes to COVID-19. Start with the COVID-19 Employer Toolkit, which you can download now.
Will Vaccine Mandates Hold Up Under Pressure?
The answer as of October 2021 seems to be: yes. The federal Equal Employment Opportunity Commission appears to provide some support for mandates. It notes that the law doesn't prohibit employers from issuing them, but that employers are required to provide reasonable accommodations in cases of disability or religious beliefs.
The Biden administration has also directed the Occupational Safety and Health Administration to create a standard that requires employers with 100 or more team members to require team members to be vaccinated or submit to COVID-19 testing requirements weekly. The OSHA standard hasn't yet come to fruition as of October 2021. However, a court case in a U.S. District Court has shed some possible legal light on health care employer rights to issue vaccine mandates.
Vaccine Mandate Court Ruling: Outcome and Current Interpretation
The ruling was in a case involving St. Elizabeth Medical Center. The medical center had issued a vaccine mandate, stating that employees must comply or face termination. A group of employees sued the medical center in an effort to block the mandate. However, Judge David Bunning ruled that the health care practice had the right to issue the mandate.
Judge Bunning noted that his ruling was based on a few factors. First, that employees who worked at the hospital had already agreed to be governed by a number of rules. Those included demands for wearing certain types of clothing, where to park, when to show up and leave work, where to sit and what work they did. Submitting to a vaccine requirement was merely another type of employer rule the team members were being asked to follow, reasoned the judge.
The judge also pointed to a history of vaccine requirements that had not been contested. The hospital in question has had a flu vaccine requirement for five years or more, for example. Bunning also cited a Supreme Court ruling that's more than 100 years old and has never been overturned. The ruling allowed a state-wide vaccine mandate in Massachusetts during the smallpox pandemic. At the time, the ruling didn't allow any exceptions.
Bunning did, however, rule for exceptions in the case involving St. Elizabeth Medical Center. Employees who submit an approved medical exemption or exemption for a sincerely held religious belief can skip the vaccine without putting their jobs at risk.
The court ruling does provide some standing for health care employers who want to issue vaccine mandates. However, health care human resources can be complex, and that's even more true during the pandemic. Being careful to make decisions after consulting appropriate experts and considering all the business, legal and HR ramifications remains important.
Don't let an employee go for any reason without ensuring you're doing so professionally and within the law. Find out more in the infographic checklist on termination mistakes.
How HR for Health Can Help
HR for Health is an all-in-one HR software solution dedicated to helping the dental, optometry, and veterinary industries. Our human resources platform features all the tools practice owners need to manage payroll, timekeeping, 401(k), and more with total integration and ease.

Whether you're looking for HR support for a small business or you're a large group dental practice, HR for Health has the solution to fit your practice and budget. Reach out to a HR for Health account representative to learn more, today.