Social Media Use in Dental Practice Employees (+ Template)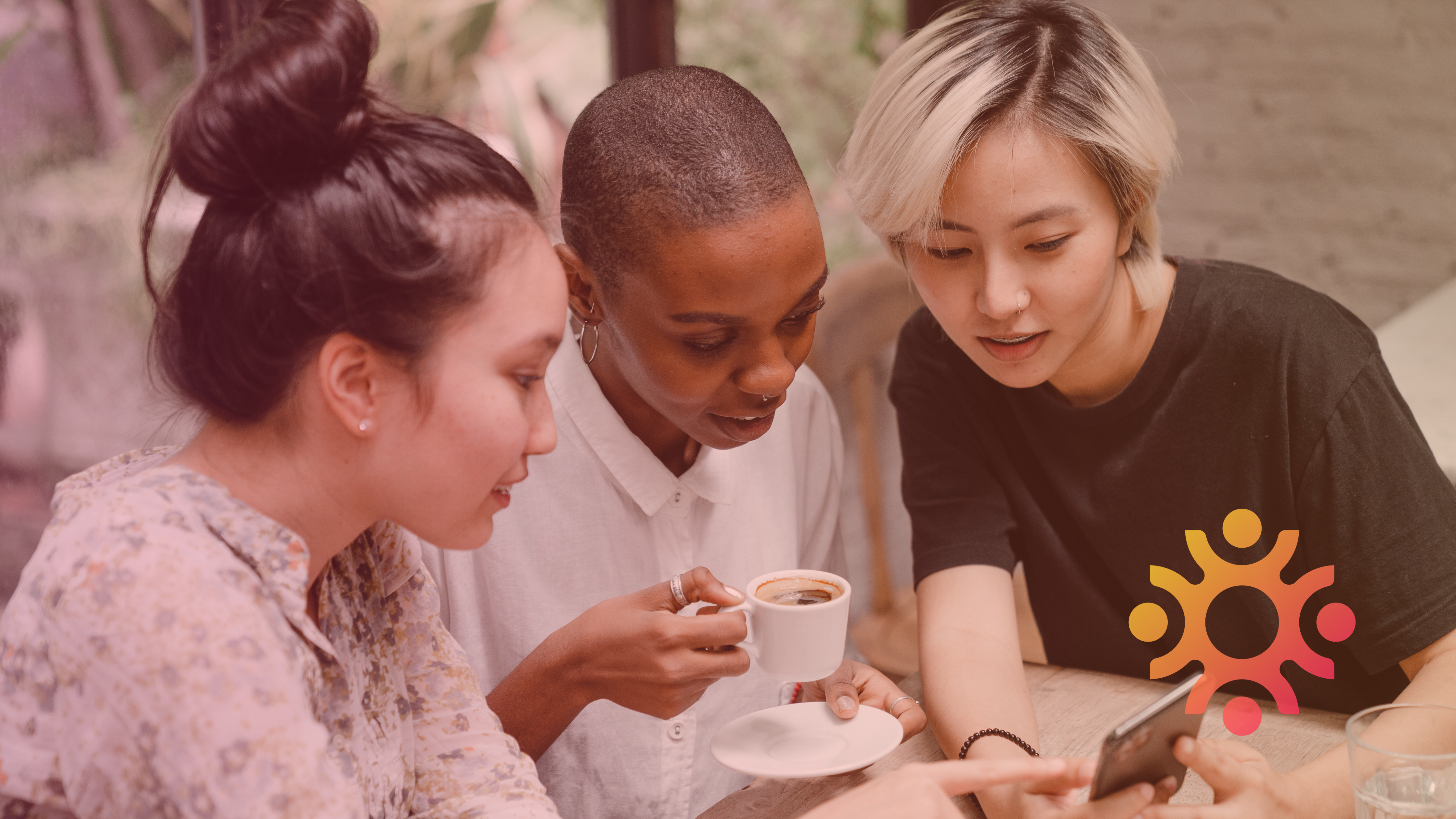 In the era of digitalization, social media platforms have become deeply embedded in our daily operations, from personal interactions to professional communication. The dental industry is no exception. Using social media efficiently and responsibly can foster robust professional networks, market services, and educate the public effectively.
However, social media can also create a host of problems for dental practices. It's important for employers to stay on top of the latest trends and legalities so they can avoid pitfalls and protect themselves from liability issues that could arise from an employee's use of social media.
This blog post aims to shed light on the impact and role of social media in dental practices, focusing on social media policies, decision-making, data collection, and best practices for drafting social media guidelines.
The Need for Social Media Policies in Dental Practices
Establishing clear and concise social media policies is paramount in managing the potential risks and pitfalls that can arise from unguided use of these platforms. By defining what's acceptable to share online and specifying the consequences for misuse, dental practices can protect their professional image and confidentiality. These policies should also reflect the practice's commitment to abide by health information privacy standards, such as protecting patient information according to the Health Insurance Portability and Accountability Act (HIPAA) regulations.
A well-written social media policy will not only help your practice avoid legal pitfalls but also increase staff awareness of the risks associated with sharing information online. This can reduce the chances of a dental practice employee being involved in an online privacy breach that reflects poorly on the business.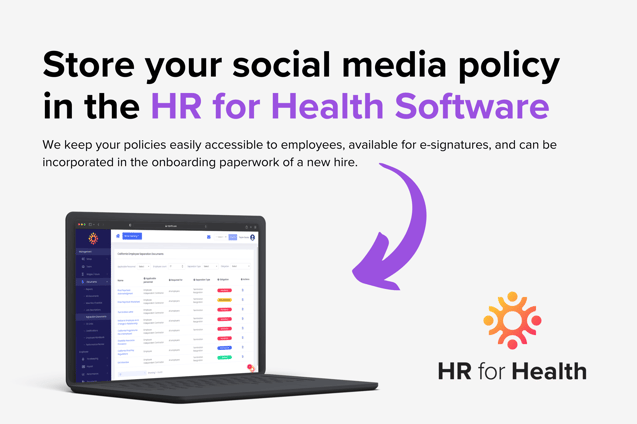 Keep it all in our cloud-based documentation at HR for Health
Decision-Making Based on Social Media Accounts
Social media is a powerful tool that can be used to help dental practices recruit, hire and retain top talent. It also offers a way for companies to stay connected with their patients, who often utilize these platforms as a means of communication. However, it's important to keep in mind that social media is just one piece of the puzzle when it comes to employee selection and management.
A 2020 survey by The Harris Poll revealed that 71% of dental practices utilize social media to screen potential hires. This practice is common among all types of dentistry, from general dentists to orthodontists. A major concern is that while employers may be able to obtain information about a candidate's professional life, they can only surmise what type of person they are based on their digital footprint.
Social media can constitute a reflection of an individual's personal brand. Dental practices may utilize this tool to evaluate potential hires, monitor employee behavior, or even gauge patient satisfaction. Context is crucial, as these observations should be conducted in a non-invasive, ethical manner. Anything that appears on public profiles can be considered fair game. However, infringing on employees' or candidates' private digital spaces can tread into dangerous ethical territory.
The same goes for monitoring employee behavior. If a potential hire posts content that is detrimental to their own or the practice's reputation, they should be informed of it and allowed to explain themselves. This is not only fair but also critical in ensuring that the right people are brought on board.
It's a slippery slope to monitor social media accounts and make employment-related decisions based off of them. While some employers may think it's acceptable to use this data as part of the hiring process, others may not agree. Candidates may feel betrayed when they learn that their potential employer has been "stalking" their online presence.
Data Collection and Insights
Social media is quickly becoming an integral part of many people's lives, including those in the dental industry. Dentists are using social media platforms to connect with patients, share advice and tips on oral health care, advertise their services, and create a professional presence online. In fact, a recent survey found that 92% of dentists use social media as part of their practice management strategy.
The same survey found that only 53% of dentists are using social media to provide care management and digital marketing services. This is a missed opportunity, as there are many ways to leverage social media channels to improve patient experience. For example, dentists can use their online presence to educate patients on oral health topics and connect them with local resources for further support.
Dental practices can leverage social media platforms for invaluable data collection. By observing trends, comments, and feedback on posts, practices can gain insights into what resonates with their patient base. This feedback can guide decision-making processes, such as tweaking marketing strategies or enhancing patient services.
Social media also provides dentists with an opportunity to connect with other professionals. They can share research and collaborate on projects, which can lead to further innovation in the dental industry.
Dental practices that use social media are more likely to attract new patients and retain existing ones. They're also more likely to be perceived as modern, professional, and responsive by the community. But with so many platforms out there, it can be hard for dentists to know which one is right for their practice.
Social media can also be used to boost patient engagement. By hosting live events and Q&A sessions, dental practices can interact with their patients in real-time and build trust. Patients feel more connected when they have a voice and are able to share their thoughts on treatment plans, preferred materials or brands of dental products, and even recommendations for other dentists.
However, it's important to remember that patients' rights to privacy should always be upheld, with data collection methods fully complying with relevant local, national, and international regulations.
Best Practices for Drafting a Social Media Policy in your Dental Practice
When drafting a social media policy, a few best practices should be observed:
Define the Purpose: Clearly state the reason for the social media policy. This helps to ensure everyone understands the importance and rationale behind these guidelines.

Clarify acceptable and unacceptable behaviors: Clearly demarcate what type of behavior is acceptable and what is not. This includes guidelines on protecting patient data, not sharing sensitive information, and maintaining professional language and decorum.

Explain consequences for violations: Outline the potential ramifications if an employee fails to adhere to the policy. This could range from retraining to disciplinary actions, depending on the severity of the infraction.

Use simple, clear language: Avoid jargon; instead, use simple and straightforward language that all employees, regardless of their familiarity with social media, can understand.

Include a review clause: Technology and social media platforms are continually evolving. Adding a clause to review the policy regularly ensures your guidelines stay relevant and up-to-date.

Include a clause for exceptions: Social media policies are often difficult to enforce in real-life scenarios. To ensure that your policy doesn't cause an unnecessary burden on employees, add a clause for exceptions. This could include situations where employees need to use social media for work-related purposes or as part of their job description.

Sign and post the policy: Once you've developed your social media policy, get it signed by all parties involved. Then, please post it in an easily accessible location (like HR for Health Software!) for employees to review.

Provide examples: Use real-life scenarios to illustrate how the policy should be applied. This helps employees to better understand its purpose and gives them a better idea of how they can apply it in their daily work lives.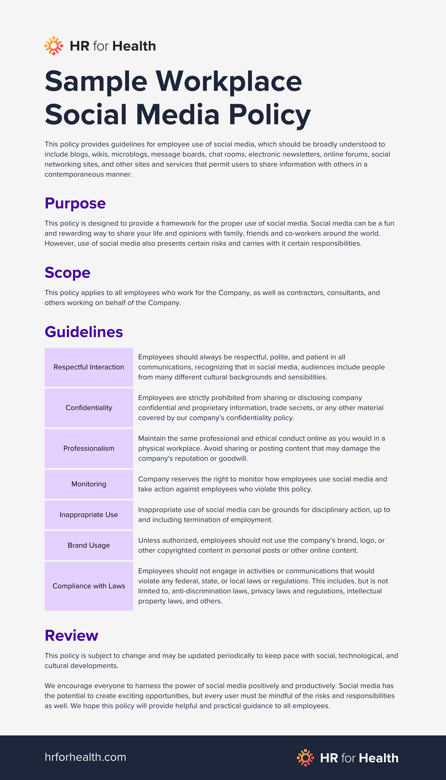 → Click here to download this sample social media policy!
In conclusion, effective and responsible use of social media in dental practices can offer a powerful avenue for engagement, growth, and improvement. With clearly defined social media policies, dental practices can mitigate risks, protect their professional reputation, and extract maximum benefits from these dynamic platforms.
Tired of managing and creating policies for your dental practice? That's where we come in. Schedule a call with us to get a free consultation.