Employee Leave of Absence: Everything You Need to Know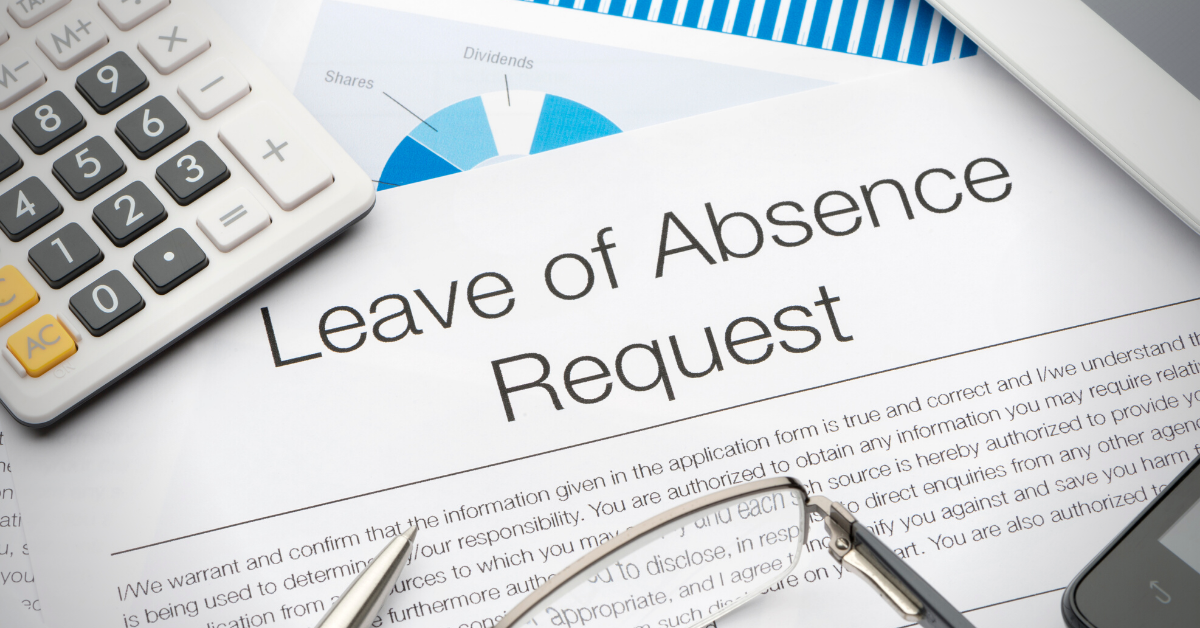 UPDATED 12/12/22
There comes a time when almost every practice will have to deal with the leave of absence of a team member. It is vital that your practice knows what to do when you must offer such a leave.
Federal and state laws govern a mandatory leave of absence. These include medical leaves of absence governed by the Family and Medical Leave Act (FMLA) and the Americans with Disabilities Act (ADA). It also includes military leave and jury duty. Finally, some states offer other leaves, like paid sick leaves.
Whether the laws surrounding these leaves of absence apply to you is often based on the number of employees working for your practice and where an employee is working.
Different Types of Leaves
All leaves of absence are not created equal, and there are different leaves of absence required in every state - such as paid vs unpaid leave, as well as leaves that the federal government protects.
First, keep in mind that there is a difference between short-term and long-term disability. Short-term disability should only apply for a couple of months. It occurs in the event of an injury or pregnancy. Long-term disability happens when there is a serious injury or illness, like a major accident or cancer treatment. It can last for years or even be lifelong.
Other forms of leave include the following:
Mandatory Leave
Mandatory leave is leave that employees are required to take as a result of federal or state law. In these instances, your practice must offer leave and allow an employee to take time out of the office in accordance with relevant federal or state law. Remember, different states have different laws governing leave. You will have to understand what you are legally required to offer in your practice.
Fortunately, HR for Health has experts on hand and a variety of resources that can answer questions for you about what leaves you must offer. We can also help you craft an employee handbook that lays out your mandatory leave policy.
Voluntary Leave
Voluntary leave is leave that is time away from work that is not protected by the law. If your practice does this, you should lay out explicitly what leave you offer, who qualifies for it, and what is required of a team member in order to take the leave.
A team member can request voluntary leave, but there is no guarantee or legal protections of getting it. Furthermore, if a team member is granted voluntary leave, there is no guarantee that their job will still be there when they return.
Recommended Reading
Paid Sick Leave - The Ultimate Guide for Employers
Who Qualifies for an Employee Leave of Absence
Some leaves have eligibility constraints, regardless of whether or not those leaves are mandated or voluntary. As such, all employees may not be eligible for certain types of leaves right away. For example, to qualify for FMLA, team members have to be employed by a covered employer for at least 12 months. Keep in mind that this time does not have to be consecutive.
Furthermore, team members must have worked at least 1,250 hours during the 12 months preceding the leave. They must also experience one of the following circumstances:
Military caregiver leave

Military qualifying exigency

Birth of a baby

Placement of a child for adoption or foster care

Care for a sick immediate family member

Serious health conditions



Recommended Reading
California Sick Leave for Dentists, Optometrists, and Veterinarians - Rollover vs. Lump Sum
How Long Can a Leave of Absence Last?
There is no set answer here, as the correct answer depends on a few different circumstances, including what the law allows and what the medical condition in question requires. For example, FMLA allows for 12 weeks. However, team members may be out for shorter or longer, depending on their condition. Longer leaves than what is required by law should be accompanied by a doctor's note, and this information should be stored in a record-keeping system. HR for Health offers cloud-based storage that can help you track and sort documents.
It is important to remember that sensitive personnel files - such as medical documents - must be secured separately. Our cloud-based storage allows for the creation of customizable document storage. This allows for files to be segregation and customized administrative access to be enabled, thus ensuring only authorized personnel sees files that they are authorized to see.
Again, remember that some states have different requirements for leaves of absence, and you must make sure that you are familiar with these requirements.
Am I Required to Continue Paying Salary When Employees are on FMLA Leave of Absence?
No, FMLA is unpaid leave. Leaves of absence are typically unpaid, but some states may allow reimbursement programs through state unemployment/disability programs. Remember, different states treat leaves of absence differently.
How Do I Create a Leave of Absence Request Form for My Practice?
You must use electronic tracking when it comes to keeping track of a leave of absence. Paper forms can get lost or not filed correctly, which can create major problems for your practice, as you may need to track all related paperwork in the event of a legal dispute or question surrounding the absence. Fortunately,
HR for Health has software that makes it easy to have an employee request a leave of absence via a submission portal. . You can then use electronic record keeping to track this information, or use our cloud-based storage to track things like doctors notes.
Furthermore, make sure you set your policies in your employee handbook, delineate the process for requesting a leave of absence, and note your compliance with federal, state, and local laws. You should also note how far in advance an employee should request a leave of absence.
Recommended Reading
How to Coordinate a Medical Leave of Absence for an Employee
What You Need To Know
There are real legal requirements when it comes to the sorts of leaves of absence that your practice must offer to employees. Therefore, you need to ensure that you understand these requirements, when they must be fulfilled, and how to track these records appropriately. A failure to offer the correct leaves of absence can land you in major legal trouble. Fortunately, by working with HR experts, you can ensure appropriate compliance and ensure that your team members are covered if they need to take a leave of absence.
How HR for Health Can Help
At HR for Health, we're here to help. We have expert resources standing by that can help you create a leave of absence policy, track the necessary paperwork, and answer any questions about your federal or state requirements.
Want more information? Contact us today and set a no-obligation, fifteen-minute appointment, and learn more about how we can help.