HR Document Management for Dental Practices: A Comprehensive Guide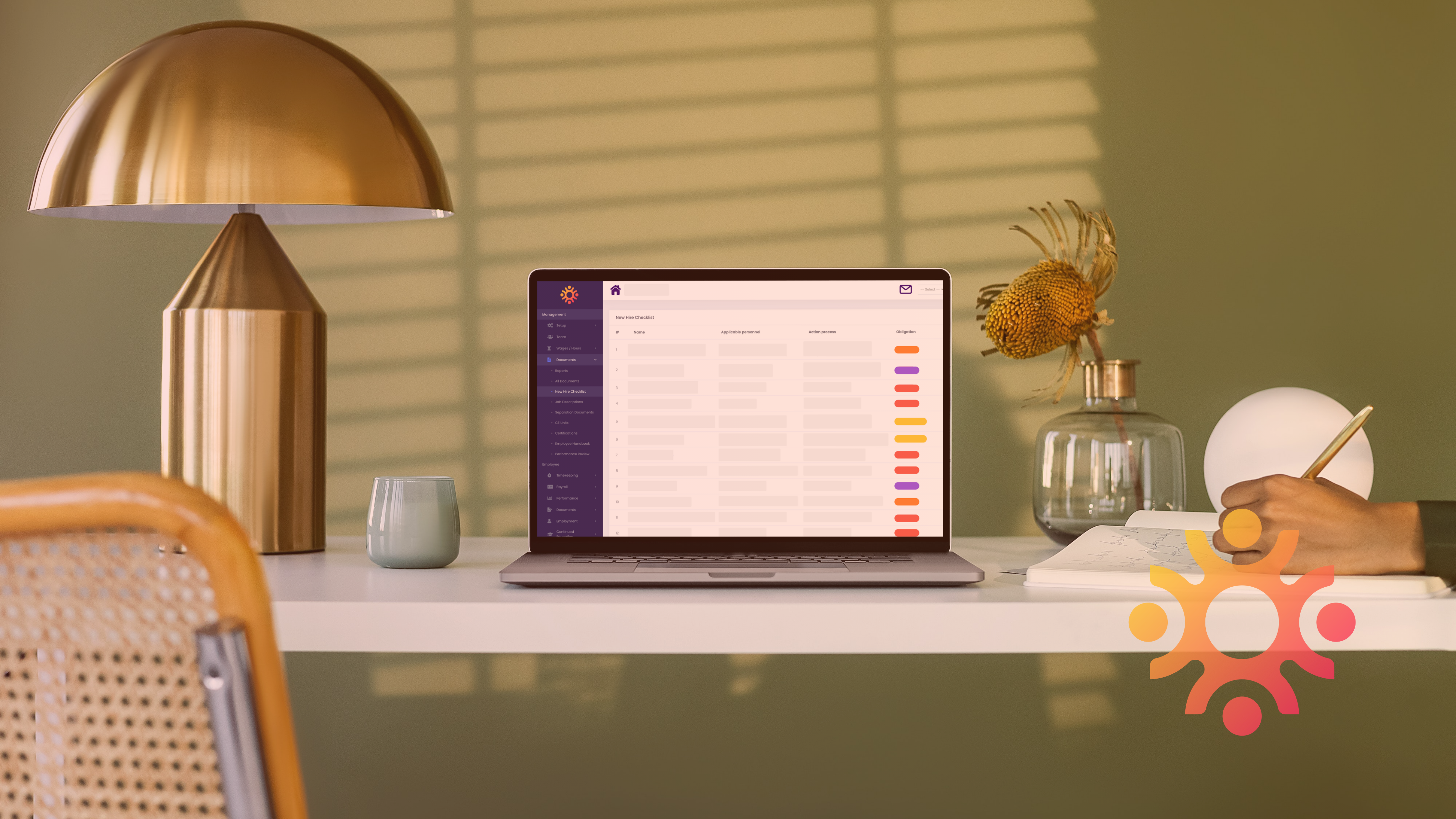 Get ready for the ultimate thrill ride into the seemingly overwhelming world of HR Document Management. Yep, you read that right— it's about to get more exciting than a root canal on steroids. So, put on your facemasks, grab your probes, and let's get this dentistry party started!
Understanding HR Documentation
Hold up; let's take a quick step back before diving in. So, what the heck is HR Documentation? Picture a paper and digital wonderland of documents and files that showcase your dental practice's top-notch compliance and organization. Forgot whether Martha from Accounting took her well-deserved vacation in June or July? No worries— HR Documentation is like your superhero sidekick, making sure you stay out of legal hot water while keeping the practice running smoother than a perfectly numbed mouth.
The Role of HR Documentation
You've probably always known that keeping records is essential, but HR Documentation is so much more than that. It's the lifeblood of your dental practice, quietly working behind the scenes to ensure job descriptions are up-to-date, contracts are signed and sealed, and disciplinary actions are documented. HR Documentation allows dental practitioners to focus on doing what they do best— creating winning smiles and preaching the virtue of flossing one patient at a time.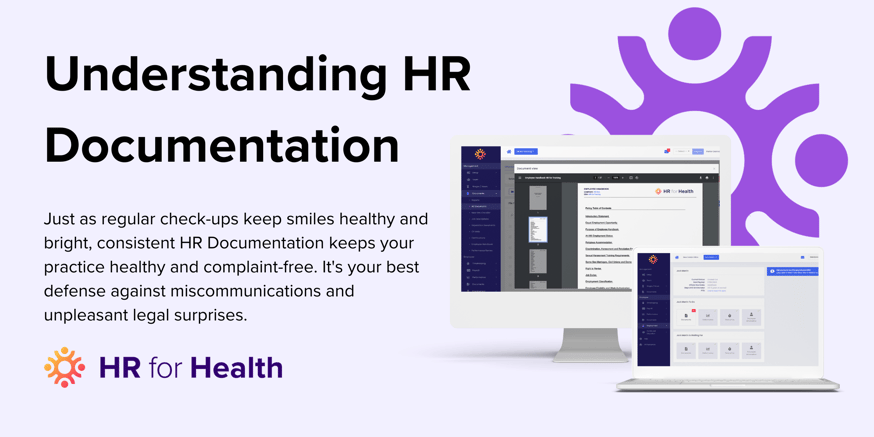 Types of HR Documentation in Dental Practices
HR Documentation comes in all shapes and sizes, kind of like your patients' teeth. There are two main categories of documentation – formal and informal – and they both play crucial roles in keeping your practice running smoother than freshly polished teeth.
Formal HR Documentation
These docs are the official stuff that could land you in legal hot water or save you from it—stuff like employee handbooks, disciplinary records, and signed contractual agreements. It's the nitty-gritty, heart-and-soul of your practice's HR department.
Informal HR Documentation
Informal documentation is the unassuming, everyday notes that keep the practice humming along, such as emails and sticky notes (reminder: Martha needs latex-free gloves). Though not as critical as its formal counterpart, informal documentation helps keep everything transparent, even if it's not as official as the Royal Crown on a molar.
Note: It's essential to understand that although informal documentation can be faster and more accessible at the moment, it is never a replacement for formal documentation. Think of informal documentation, the things you might say to a friend, but if formal documents aren't in a cloud-based system, like HR for Health, you're subjecting yourself to legal issues down the road.
Onboarding and HR Documentation
Remember the first time you held a dental drill? Onboarding shouldn't be scarier than that! Documentation is a crucial part of bringing new team members into the fold, from employment contracts and policy acknowledgments to confidentiality agreements. We'll offer you tips for streamlining the onboarding process, making it as painless as getting your teeth cleaned... when you've been flossing regularly 😉
Related: Onboarding Best Practices in Healthcare
Streamlining Onboarding Documentation
We all know that time is one thing busy dental professionals don't have to spare, so we've put together a few tips to help speed up onboarding documentation:
Create a checklist – Have a one-stop-shop guide to ensure no essential paperwork gets overlooked.

Go digital – Digital records make it easy to find and store paperwork without transforming your office into a chaotic avalanche of manila folders.

Keep it simple – Use clear language and straightforward instructions in your onboarding documents to avoid confusion and frustration.
Performance Management and HR Documentation
Performance documentation is like the treasure map guiding you through the labyrinth of employee management. It helps you identify the all-stars, swap out underperformers for a sharper team, and stay on track to reach that pot of gold at the end of the rainbow: a practice that's a well-oiled machine of dental excellence.
A (Dental) Bridge to Success
Performance reviews, goal-setting sessions, and improvement plans aren't just for show—they're like the dental bridge to a brighter, more successful future for your entire team. Just as your patients need guidance on their oral health journey, proper performance documentation helps keep your employees on track and invested in the success of your dental practice.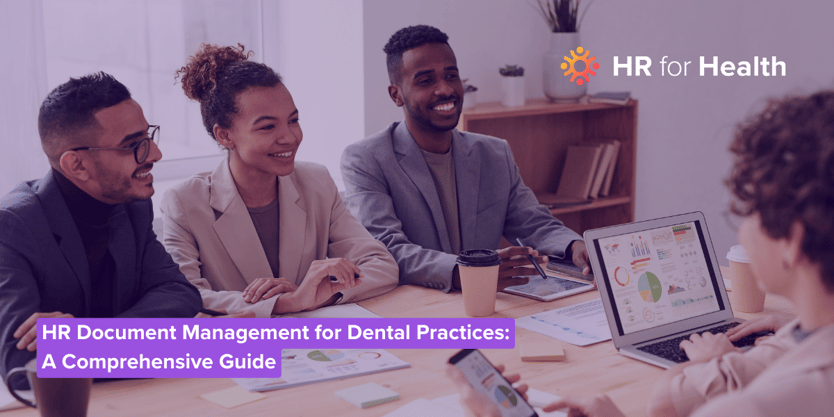 Medical Information and HR Documentation
Handling sensitive information is no joke, and yes, we're going to get serious for a hot second. Your practice's medical records are essential for staying HIPAA compliant, protecting patient privacy, and avoiding legal missteps. We'll break down the dos and don'ts of documenting and retaining medical information that'll make HIPAA compliance a breeze.
Termination and HR Documentation
Sometimes things don't work out, just like teeth that don't respond well to braces. Termination isn't easy, and documenting it can be even trickier. But don't worry; we'll take you through the process of tying up loose ends, like exit interviews and proper documentation, so you can get back to business and creating those million-dollar smiles.
Best Practices for HR Documentation in Dental Practices
To wrap up our thrilling tale of HR Document Management, we'll give you a golden treasure chest filled with tips like proper recordkeeping, organization strategies, and a primer on digital HR software that'll make handling your HR docs easier than convincing a child they need braces.
There's no denying that HR Documents are vital to the overall success of your practice, whether it's onboarding new talent or keeping your existing team members on the right track. Implementing the tried-and-true best practices we've covered will help your practice run as efficiently as possible, and don't worry—we'll be here to help you every step of the way, just like a dedicated hygienist giving a refresher course on how to properly floss. Now, let's get back to work and create those dazzling smiles!
Say "Bye-Bye" to HR Hassles with HR for Health Software
Let's face it, dealing with HR documentation is about as much fun as getting a tooth extracted without anesthesia. We feel your pain and, luckily for you, we've got the cure! Enter the HR for Health software, designed specifically to turn the grueling task of managing HR documents into a walk in the park.
HR for Health: The Ultimate HR Sidekick
We designed our software with busy healthcare practitioners like you in mind. Handle HR document management like a boss with our user-friendly platform that'll take the stress out of managing employment contracts, performance reviews, and those pesky sticky notes about latex allergies.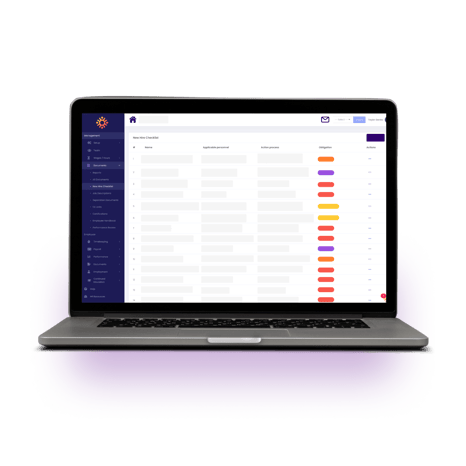 Why Choose HR for Health?
What makes HR for Health better than flossing? Glad you asked! Let's break down some of the perks of our software that'll revolutionize the way you conquer HR documentation:
Organization made easy: Wave goodbye to overflowing cabinets and piles of paper. Our digital platform keeps everything in one intuitive, easy-to-navigate place.

Security you can trust: Employee privacy and sensitive info are important to us. We've got state-of-the-art security measures that ensure your data stays safe and compliant.

Time-saving features: We know you're busy saving smiles. Our HR software automates routine tasks, freeing you up to focus on what really matters.

Expert support: HR for Health is more than just a software; we're a partner in crime, providing you with expert guidance, resources, and stellar customer support.
Ready to Rock your HR Documentation? Try HR for Health Today!
It's time to take action, dental heroes! Sign up for a demo of our HR for Health software or contact us to learn more about how we can help you become the master of HR document management. When your practice is thriving, more organized, and runs like a well-flossed machine, you'll wonder how you ever went without HR for Health.
Don't let documentation dilemmas hold you back – let HR for Health be your trusty, irreverent sidekick on the road to conquering that ever-daunting HR paperwork. Grab your dental mirror and let's reflect on a brighter future with HR for Health!