A Team Member in Your Dental Practice Refuses the COVID-19 Vaccine. Now What?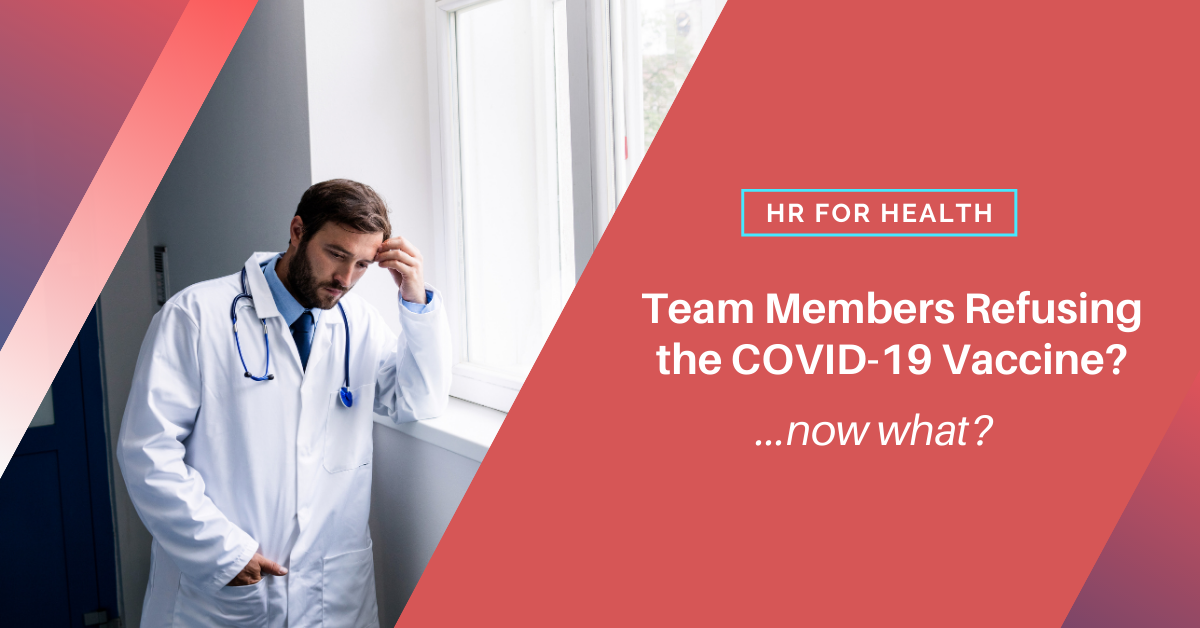 What happens if a team member in your dental practice rejects the COVID-19 vaccine? And what should you do? A dental HR guide.
A Team Member in Your Dental Practice Refuses the COVID-19 Vaccine. Now What?
Just a month ago, an astonishing 39% of Americans said they definitely or probably wouldn't take the COVID-19 vaccination, creating an additional hurdle in this overwhelming public health crisis. General skepticism surrounding the vaccine remains, even in our sector, with reports of dental employees refusing the injections available to them.
Office managers and employers are part of the vaccine management process for employees and work closely with local health departments and vaccine distributors. But what happens if a dentist, hygienist, front desk worker, or another team member refuses the vaccination? (A billing assistant tells you they won't take the vaccine, for example.)
Can Employees in Your Dental Practice Refuse the COVID-19 Vaccine?
The Federal Food, Drug, and Cosmetic Act mandates that individuals can refuse a vaccine when the Food and Drug Administration (FDA) approves it for emergency use. (At the time of writing, the FDA has approved two vaccines from Moderna and ​​​​Pfizer-BioNTech for emergency use.) However, dental employers can require employees to be vaccinated, with certain caveats.
The Equal Employment Opportunity Commission (EEOC) recently said that employers might require employees to take the COVID-19 vaccine. But employers they must comply with the following legislation:
This means that employers will have to excuse team members with disabilities or religious objections who reject the vaccine.
Employees Refusing the COVID-19 Vaccine: What Might Happen in the Future?
If your dental practice mandates vaccines for employees, you might have to prove that an unvaccinated team member poses a direct threat or risk to other team members before you can take further disciplinary action. The EEOC recommends you consider four factors to determine such a threat:
The duration of the risk.
The nature/severity of potential harm.
How likely it is potential harm will occur.
How soon potential harm will occur.
What to Do Now About Team Members Who Refuse the COVID-19 Vaccine?
Here are some tips to encourage team members in your dental practice to receive the vaccine:
Encourage dentists, assistants, hygienists, billing assistants, and other team members in your practice to take the vaccine.
Share resources about the benefits of taking the vaccine. (The Centers for Disease Control and Prevention (CDC) lists the

benefits

here.)
Communicate with team members who remain skeptical about the vaccine. (Reaching out to a nurse who is fearful about taking the vaccine, for example.)
Include your COVID-19 vaccination policies in your employee handbook. (If you don't have an employee handbook,

create one now

.)
Use HR for Health's 2021 COVID-19 Policies Guide and Vaccine Declination Form. This package includes templates for developing vaccination policies in your practice and documents for employees who refuse the vaccine.

Download here

.
Check

HR news

and healthcare news for the latest guidance.
Recommended Reading: Click here to read HR for Health's COVID-19 resources for healthcare practices like yours.
Final Word
Managing team members who refuse to take the COVID-19 vaccine is complicated. In the future, dental practice owners might have to evaluate the risk unvaccinated team members pose to others and consider disabilities and religious objections. Right now, concentrate on establishing your practice policies and protocols surrounding the COVID-19 vaccine and keep communication open with your team.
HR for Health's suite of management solutions help you communicate healthcare HR procedures to team members. You can now include COVID-19 vaccine policies in your employee handbook and track disciplinary action with the latest software. Click here to learn more.
---
About HR for Health
HR for Health is an all-in-one HR software solution dedicated to helping the dental, optometry, and veterinary industries. Our human resources platform features all the tools practice owners need to manage payroll, timekeeping, 401(k), and more with total integration and ease.
Whether you're looking for HR support for a small business or you're a large group dental practice, HR for Health has the solution to fit your practice and budget. Reach out to a HR for Health account representative to learn more, today: Schedule a Meeting
---
HR for Health is one of the nation's leading Human Resources Management Systems (HRMS) used by small to mid-sized practices.
---
Quick note: This is not to be taken as legal or HR advice. Since employment laws change over time and can vary by location and industry, consult a lawyer or HR expert for specific guidance. Learn about HR for Health's HR services.